Climbing Mount Kilimanjaro in Tanzania - Africa's Tallest Mountain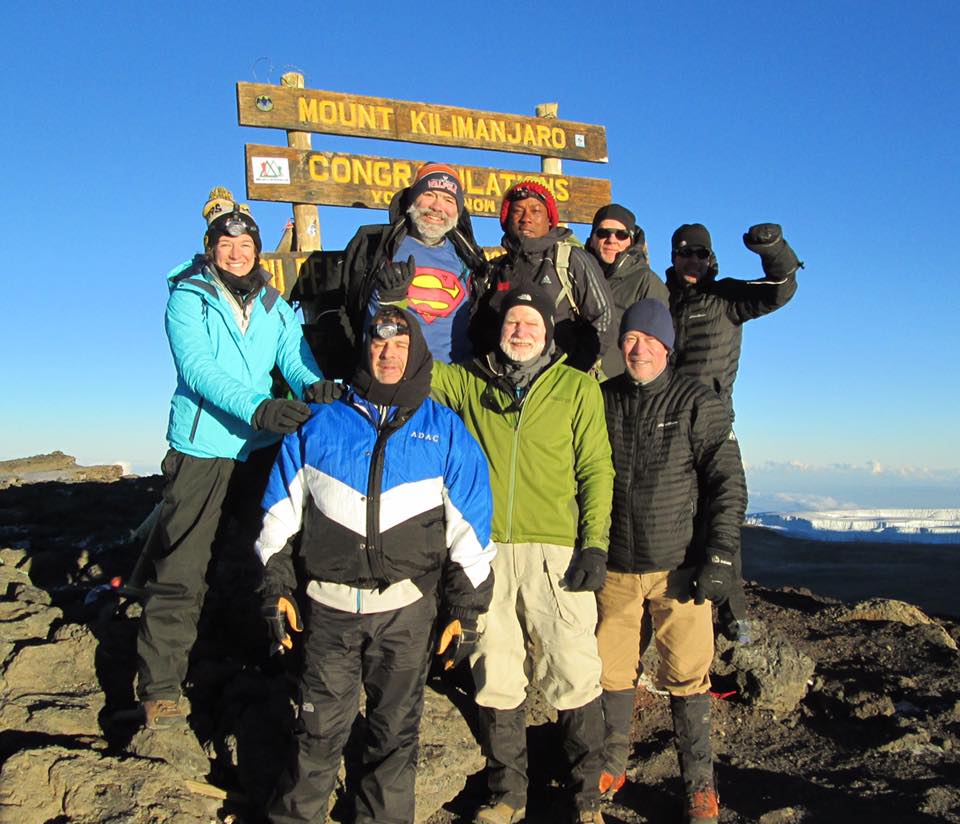 Summit of Mount Kilimanjaro 6:30am, January 28, 2017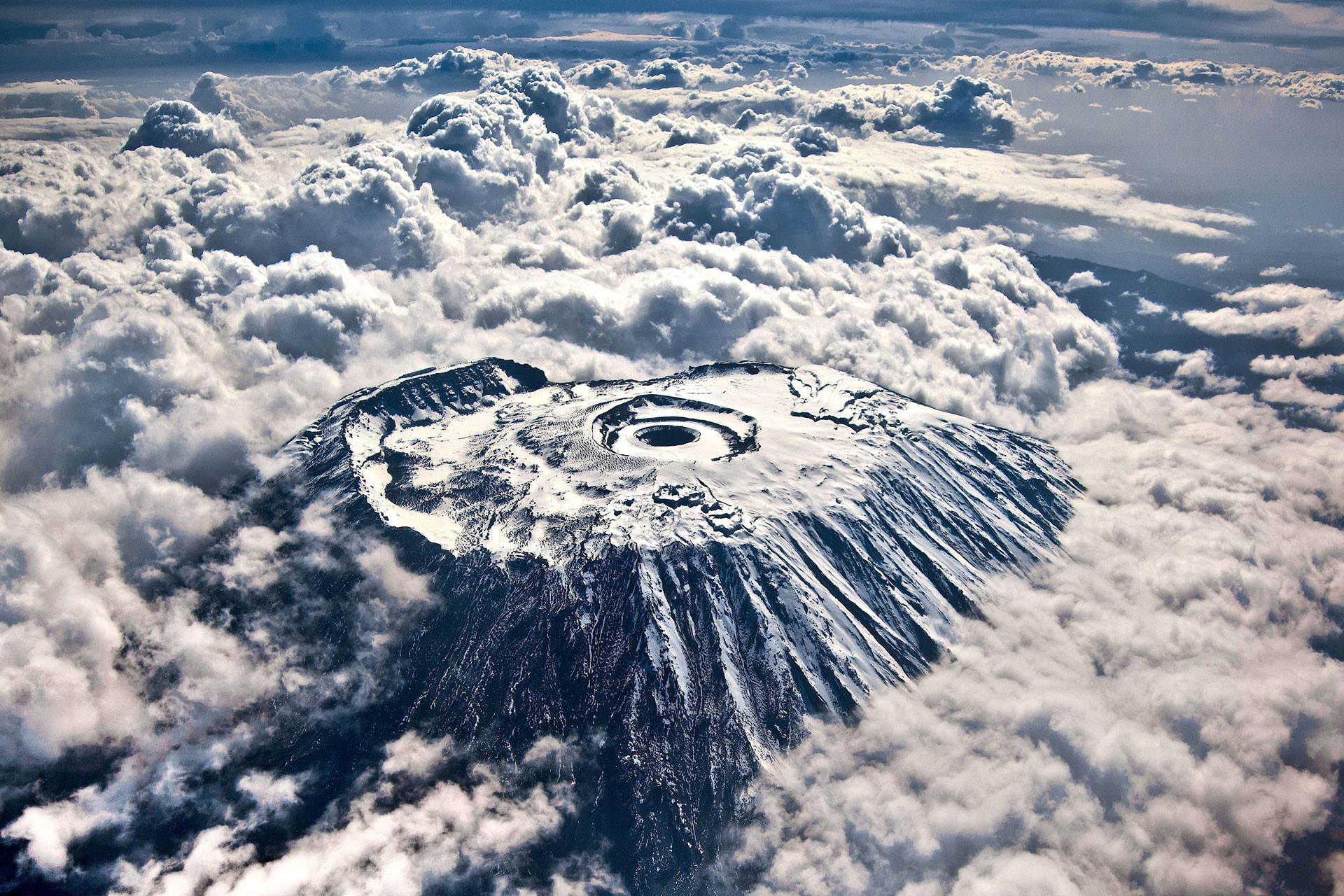 Kilimanjaro Crater from the air



---

On Thursday, January 19, I will depart for Tanzania to attempt to climb Africa's highest peak, Mount Kilimanjaro at 20,000ft. I will use a satellite phone to make daily reports to this FB page.


I didn't take this picture



---

January 20 · I have arrived at Itikoni Camp at the base of Kilimanjaro. Driving into the area at night, we saw buffalo, zebras, hyenas and giraffes. This morning I was awakened at dawn by a baboon outside my tent.
At Base camp around 5,000 feet the temperature is in the 90s. After three days of climbing the temperature is below zero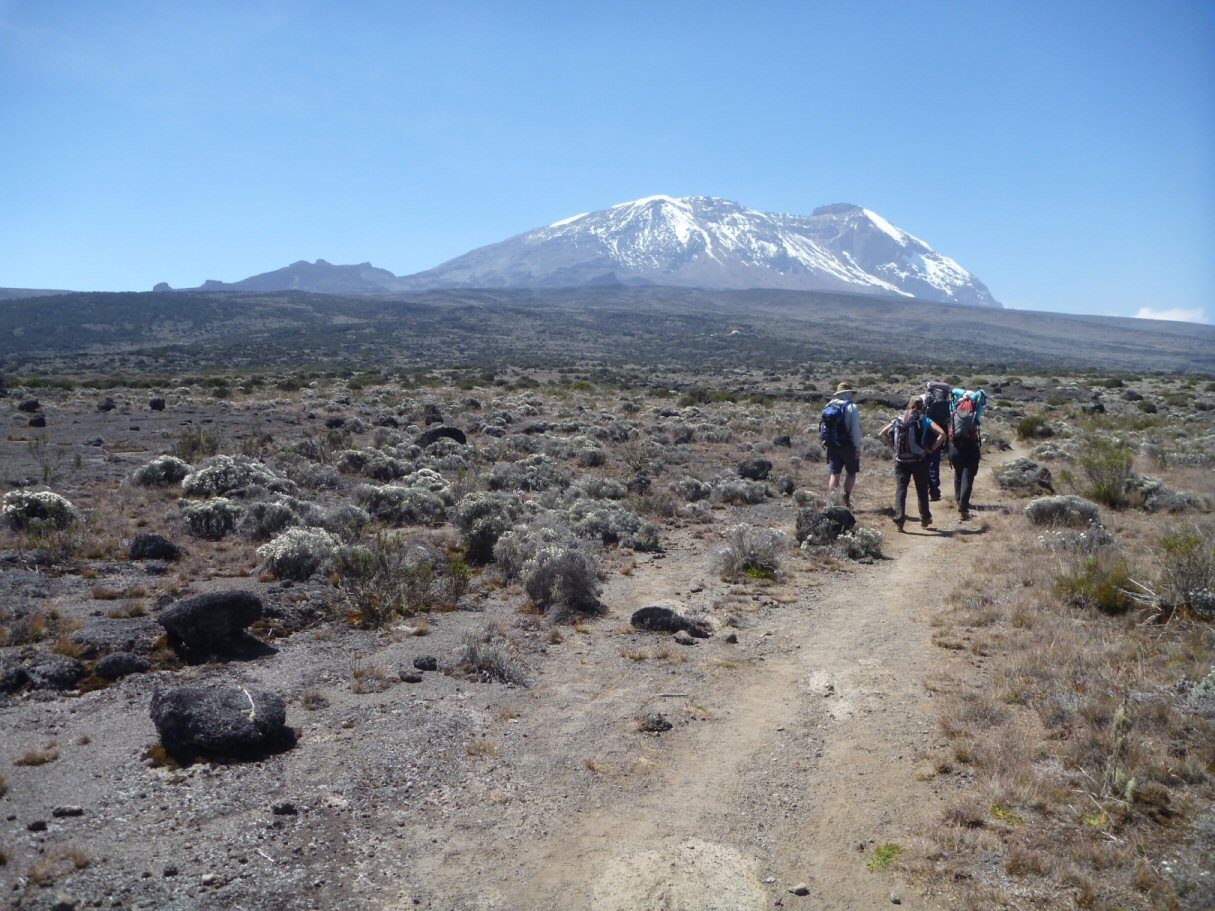 ---

January 21 · We hiked through rain and rainforest today to Maio Falls. A park ranger with a rifle led the way because there is a leopard in the area. Our group is seven clients, three guides and 56 porters. Eight porters per client for a total of 66 people going up Kilimanjaro.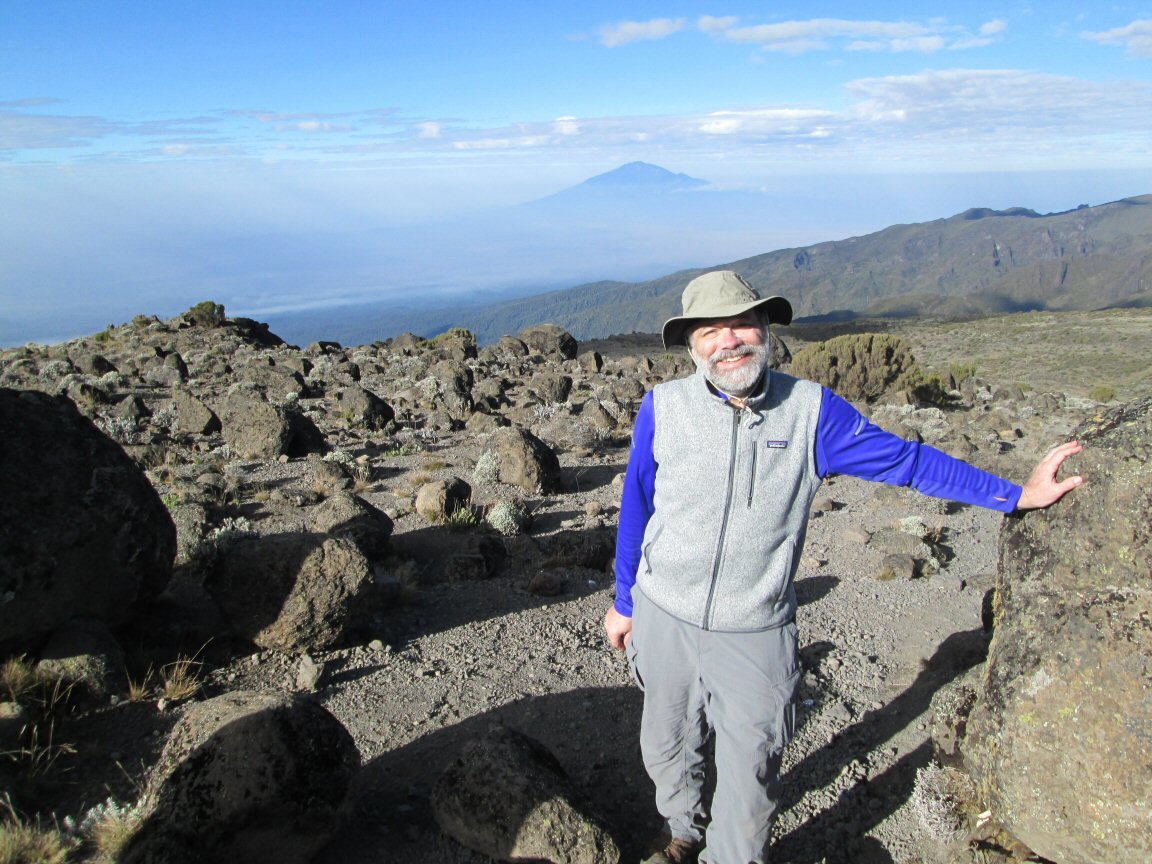 ---

January 22 · Today we climbed 4,000 feet to reach Machame Camp at 10,000 feet. Only a sprinkle of rain today, which beats yesterday's downpours. Machame Camp is just above the tree line, so we are out of the rainforest.




---

January 23 · A challenging climb to Shira Camp today, at 12,650 feet. There are six men and one woman in our group -- three attorneys, three engineers and a medical professional. The staff amazes us by serving excellent hot meals on the side of a mountain.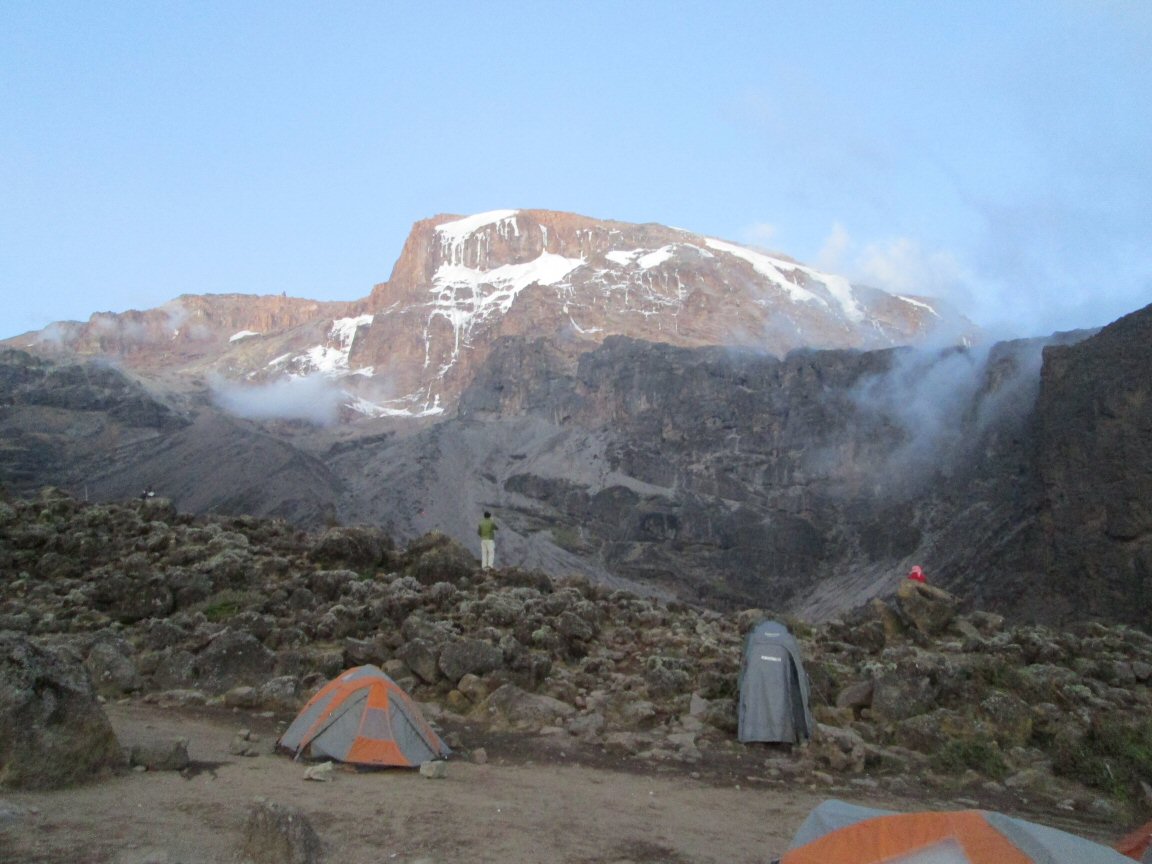 ---

January 24 · Today was an up and down day. Temp last night was 18, and around freezing all day today. We started at Shira Camp and climbed to the Lava Tower at 15,200 feet. After lunch, we descended to 13,100 to camp for the night. I injured my knee climbing down a rock fall this afternoon, but I'm hoping it will not slow me down much.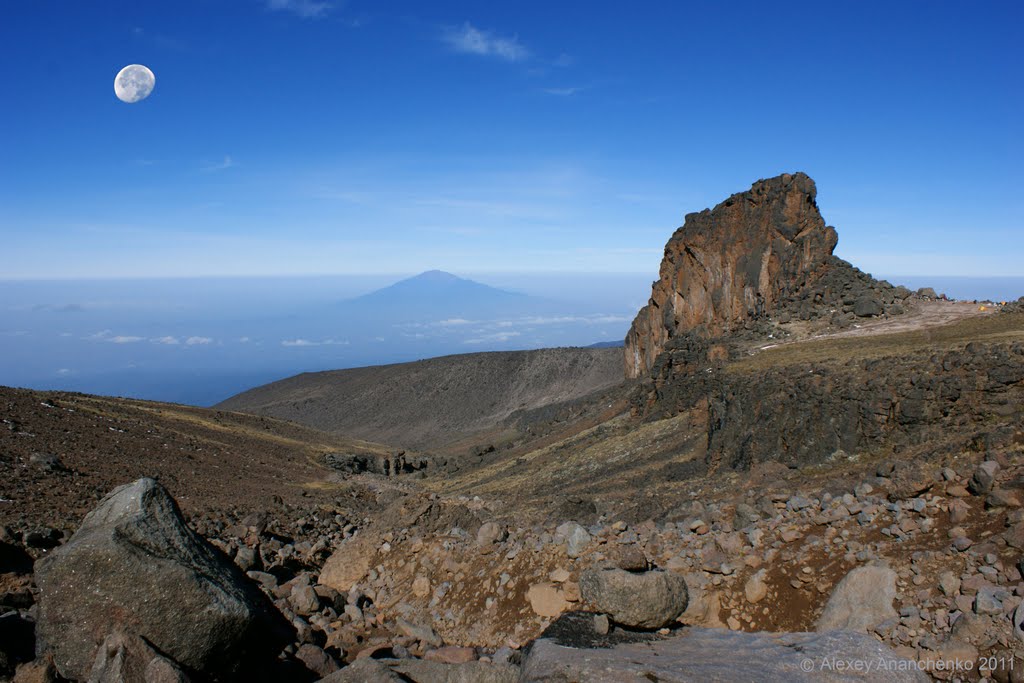 ---

January 25 · Today we climbed 3,000 vertical feet to 16,000 and Arrow Glacier Camp. We will stay here for two night to acclimatize and will do a short local hike tomorrow. There are a couple of our hikers who are having trouble with the altitude, but I haven't been greatly affected. My knee is a problem. It is helpful that Mchili, our guide, has supplied me with walking poles and a knee brace. These, and the oxycodone that I brought with me, got me up the mountain today.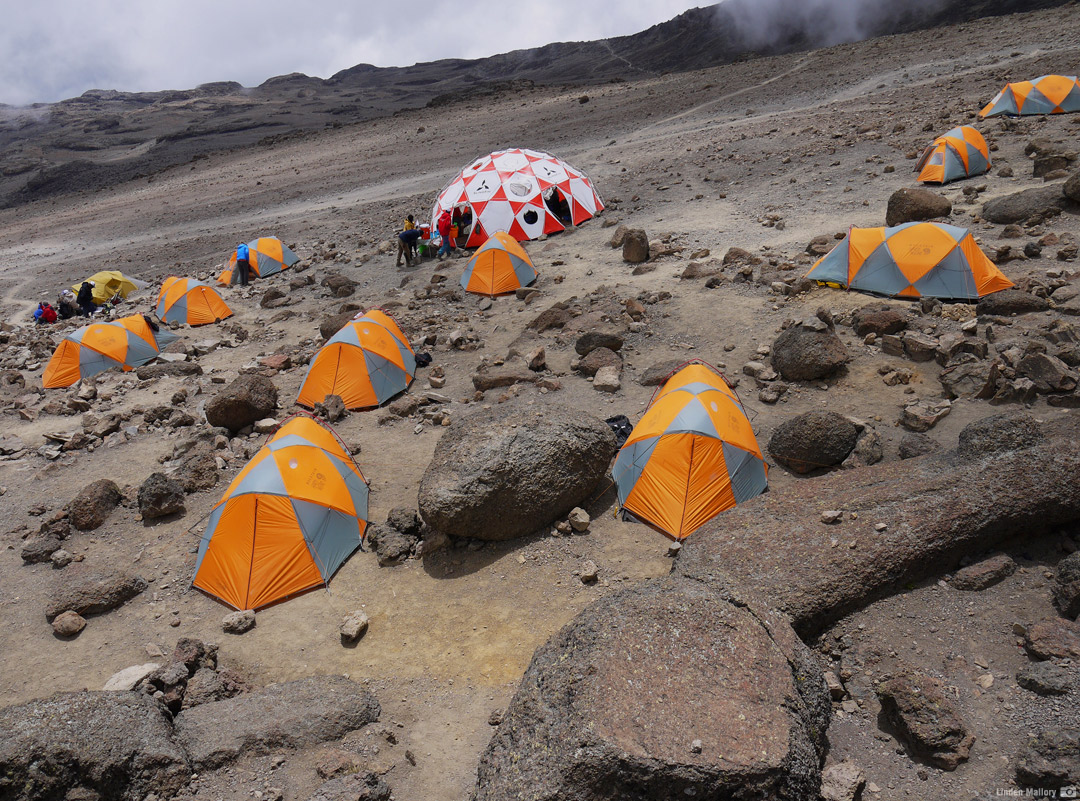 ---

January 26 Today is a rest day at Arrow Glacier camp, while we acclimatise to 16,000 feet. Tomorrow at 3 a.m. We head for Crater Camp in the dark with headlamps.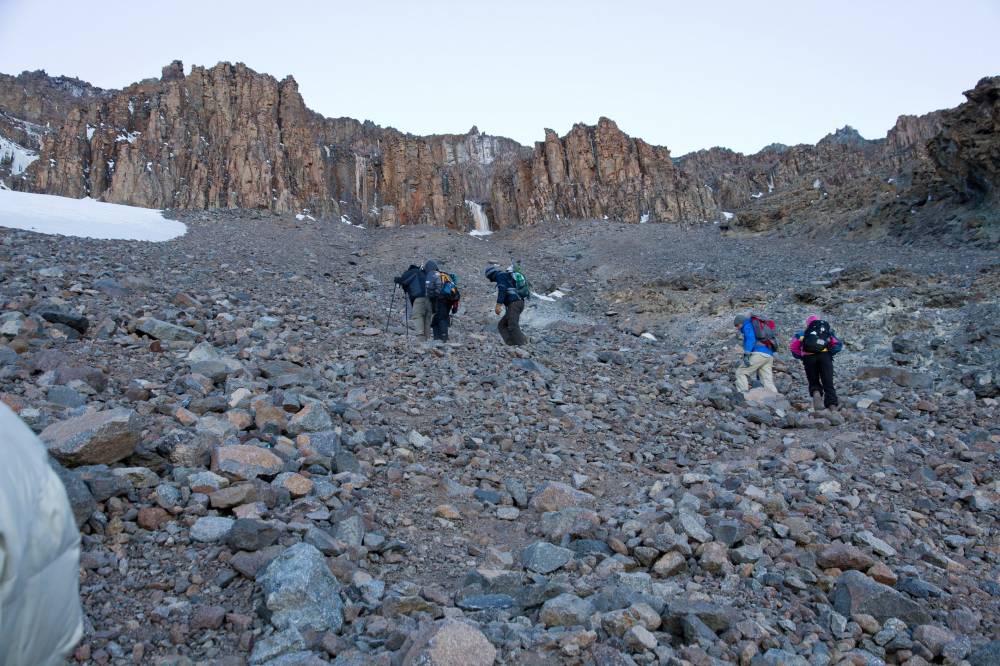 Looking up at the Western Breach. The picture is not from our group. We did this part in the dark.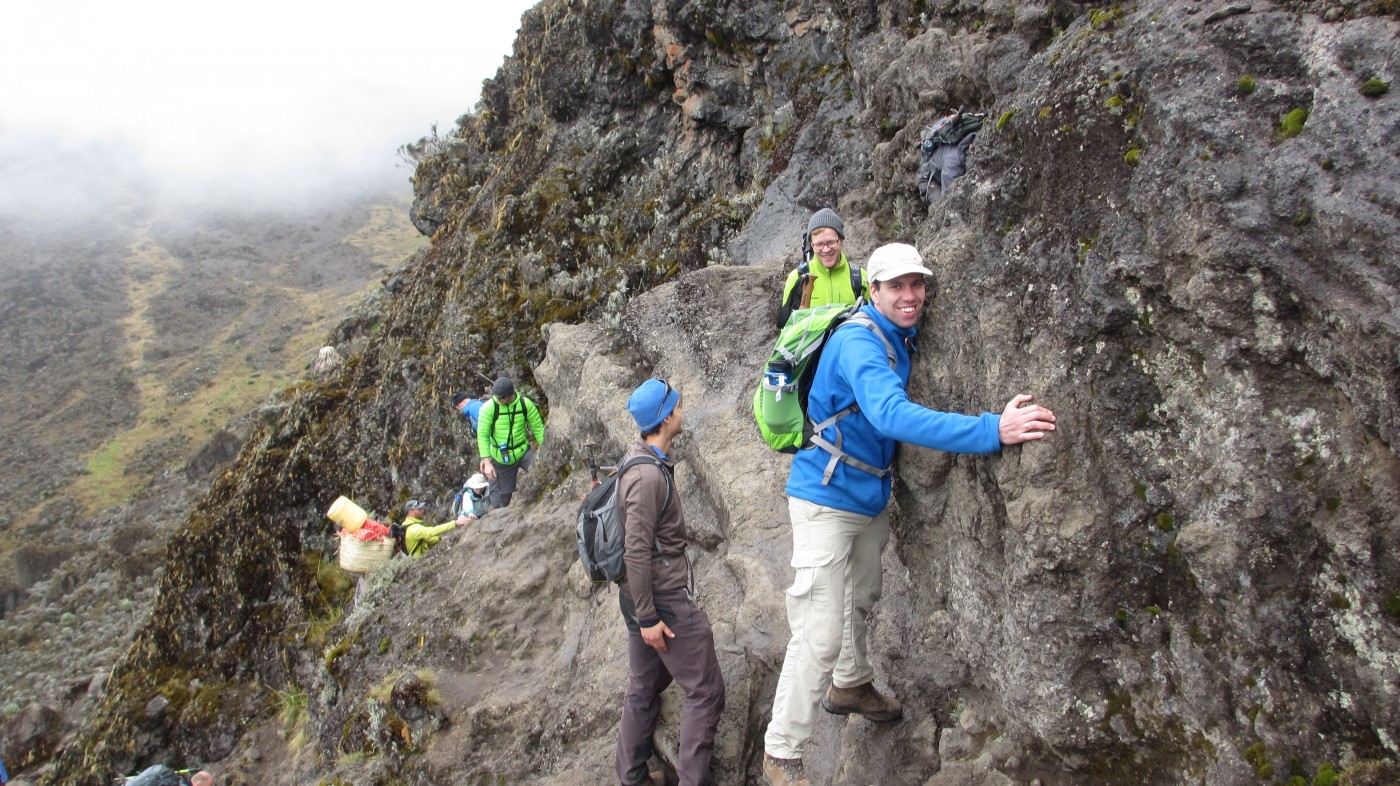 This is a close look at climbing the Western Breach. Again, we did this part in the dark.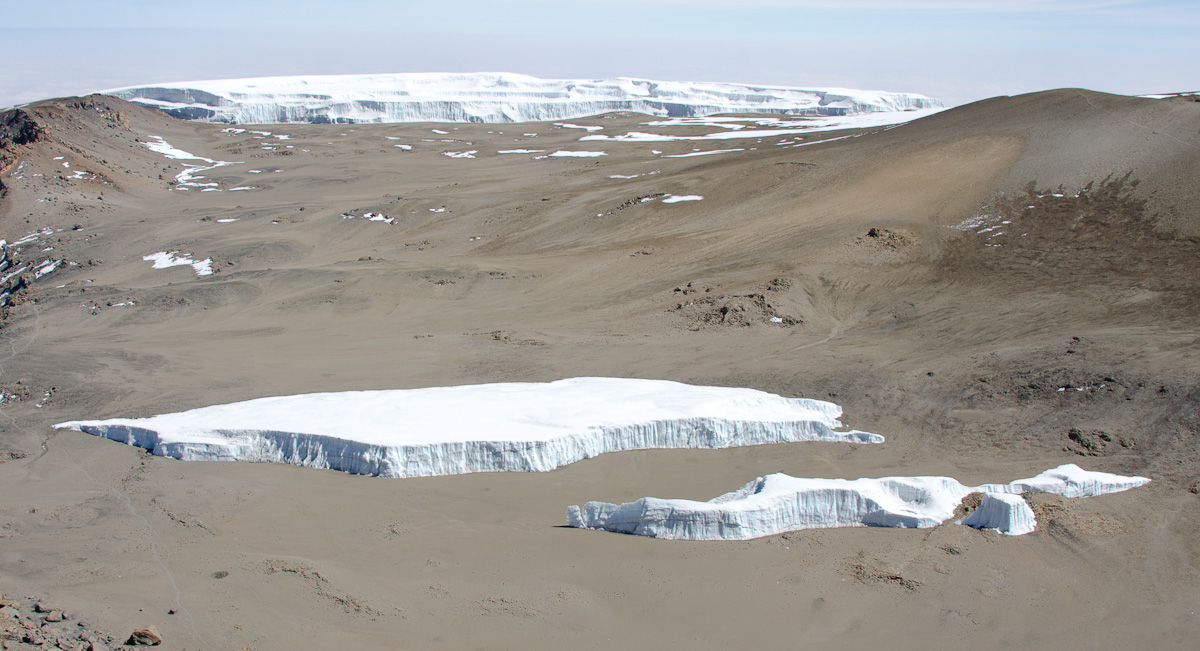 After passing through the Western Breach we see what is left of the glaciers in the crater.


---

January 27
We are now at Crater Camp. The plan is to arrive at the summit at dawn, then descend quickly. We were underway at 3 a.m. from Arrow Glacier Camp, as planned, with headlamps. We wanted to pass the rock slide area before dawn for safety. Unfortunately there was a slide, a bad one, but there were no serious injuries. There are no more rock slide areas for the rest of the trek.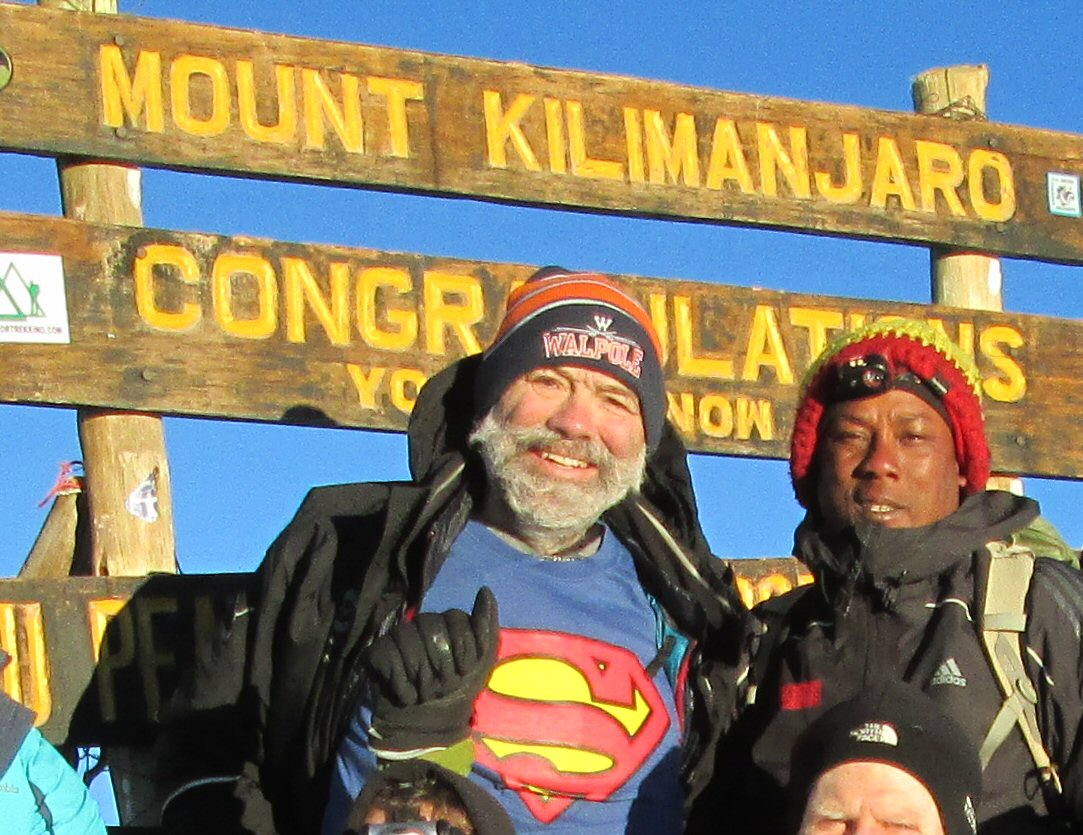 ---

1/30 I made it home without injury, except that my legs feel like rubber and I walk funny. The rock slide we experienced on the Western Breach was quite dramatic, as large boulders bounced over us while we tried to get as low as humanly possible. This picture of the Breach is not of our own group. We took no pictures because we actually passed though this area in darkness using headlamps. Rock slides are supposed to be less likely in the dark without the sun causing the heating and expansion of the rocks. The theory didn't work this time. We had a great adventure and we now have new friends.