The most fun you can have on this earth is to sail to Antarctica for a month on board a 60 foot sailboat named Xplore
Below are the emails and pictures I sent back from Antarctica in 2009.



1/15/2009 The Start



We sailed out of Ushuaia Argentina this morning and entered Puerto
Williams, Chile this afternoon. After picking up James we continued to
Puerto Toro.

The weather forcast is for 50 knot winds with 80 knot gusts. We can't
cross the Drake Passage to Antarctica in that so we will stay in South
America for a while.

The crew is Stephen, Audrey, Stepnanie and Julie. Simon is part time crew.

There is also James and Sonia, plus Surge and Cecilia, add myself to
make 10. Five woman, and five men.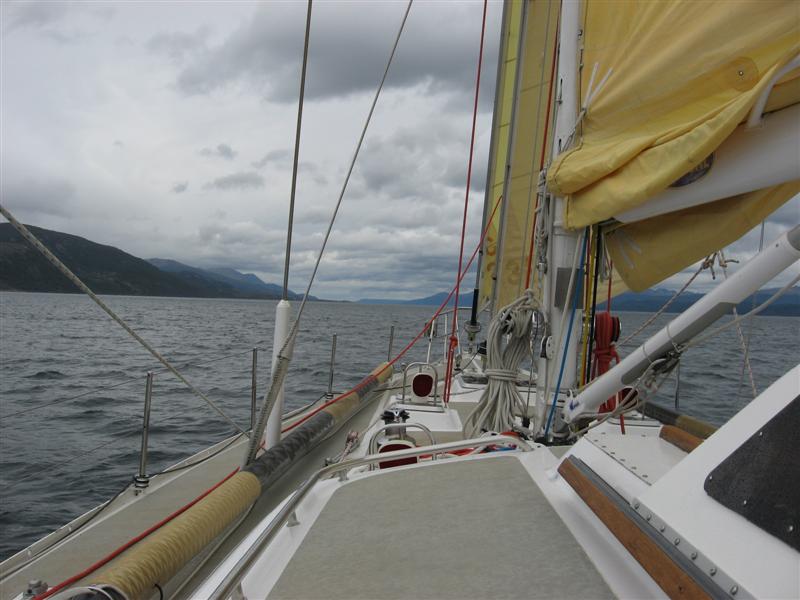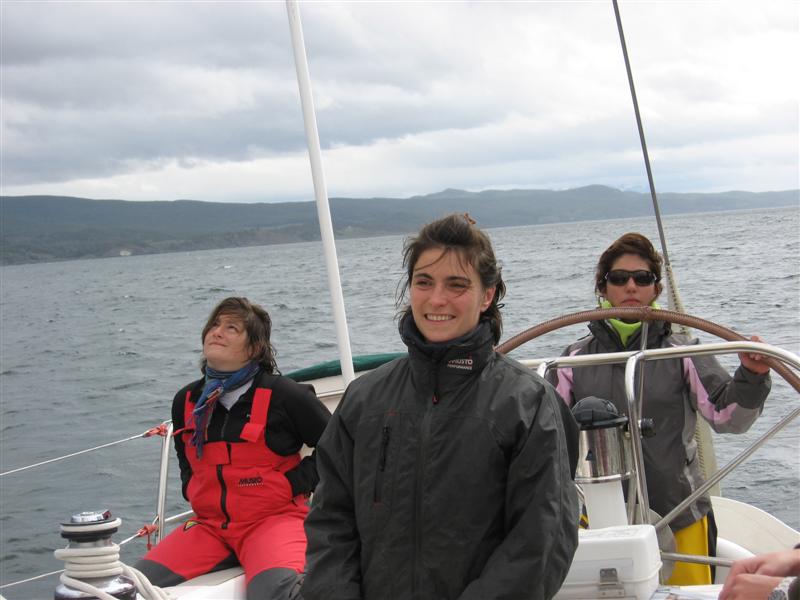 *************************



Update - 1/16/2009 Puerto Toro



The Chilean Navy came on board this morning to announce that Puerto Toro is now
closed. Due to high winds we are not allowed to leave the bay
until conditions improve. Puerto Toro is crab fishing village, about a
dozen homes and a tiny church. The southernmost settlement in the world.

We have spent part of the day preparing meals that can be eaten quickly as we
cross the Drake Passage. The cemetery pictured is up the hill from the
settlement.

You can send me an email - icetent @ skyfile.com

The blog and other information can be found at icetent.com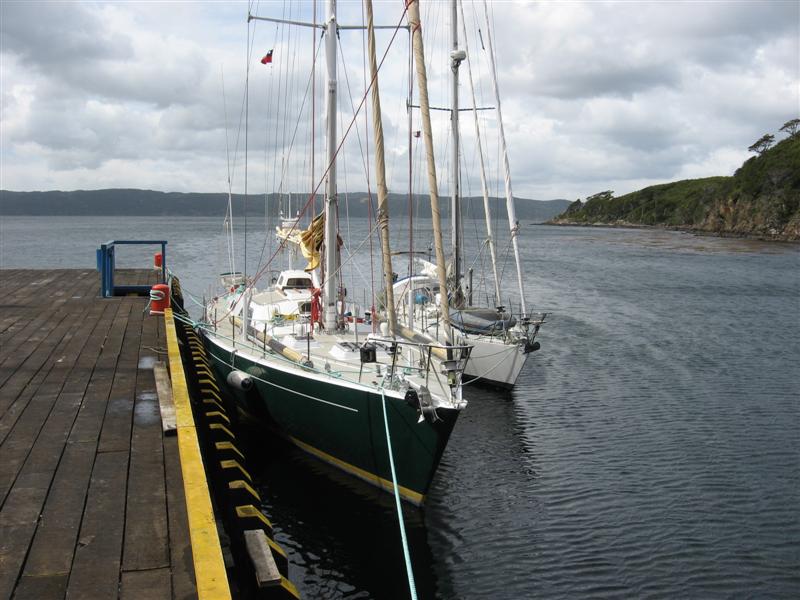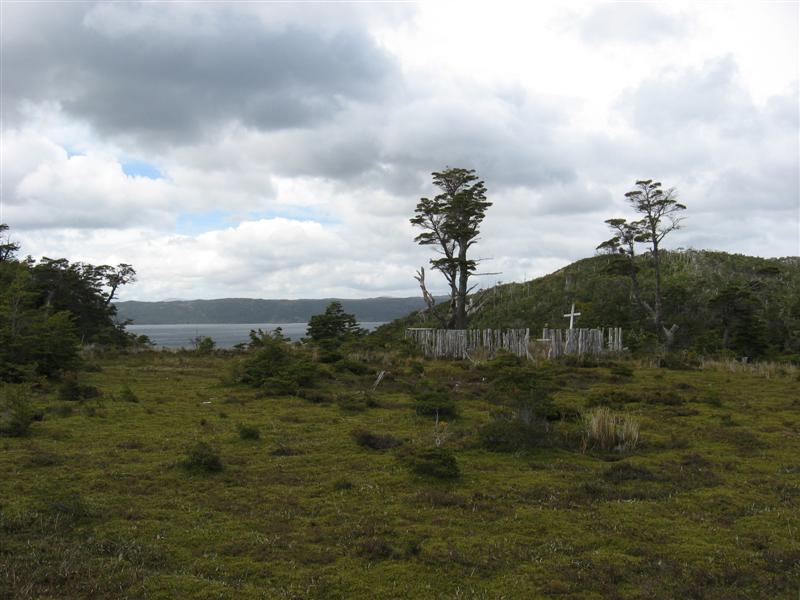 *************************



Update - 1/18 Drake Channel



There was no update yesterday, I was to sick.

We sailed out of Puerto Toro at Noon yesterday. As we passed Cape Horn
and the last of the islands it beccame very rough. All of us had taken
sea sick medication, but I guess they were not designed for this. I'm
feeling better today and actually ate a banana. Next stop Elephant
Island, we can be there in two days.




*************************



Update 1/19 Elephant Island or King George?



Another blow is in the forecast so we have are changing course for King
George Island in the Shetlands. Elephant is where we wanted to go
because of its history with Shackleton and the most amazing survival
story (google Shackleton). But Elephant has no harbor for us to ride out
a blow.

Xplore is beautiful, modern and comfortable. And for the last few days
we have been thrown around inside her like rag dolls in a dryer.
Everyone else is pretending this is normal, so I am going along with the
joke. I took a shower today and ate some solid food, my seasickness
almost gone.

One picture shows our progress. The other is me at the wheel , you can
just make out the southern tip of South America in the distance.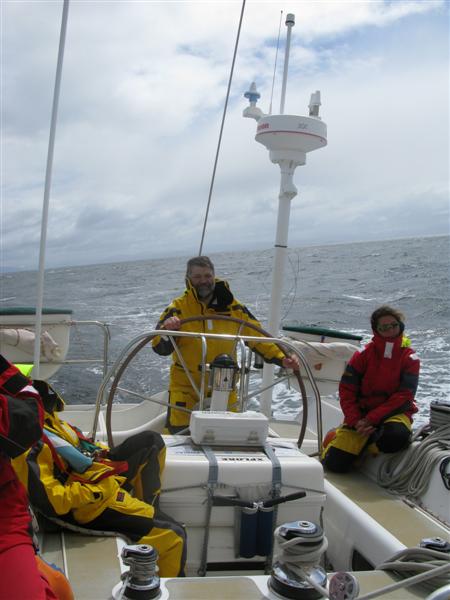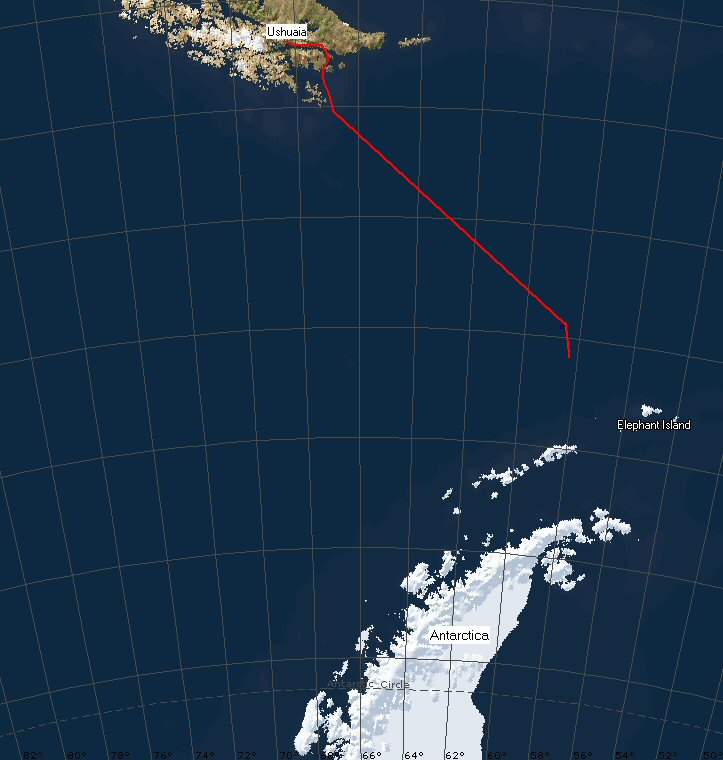 *************************



Update 1/20 - King George Island - Antarctica



We are now at anchor in a snug harbor at King George Island. It is a
nice change to have the boat almost still and not have to stand watches
in the middle of the night.

Taking in sail and winching the anchor out of the forepeak was a fun
procedure on a pitching, icy deck during a light snow storm. We all had
very cold fingers when that was over. The harbor is beautiful with
glaciers in every direction. We are now in Antarctica.

I am the only American, but everyone was very interested in the
Inauguration. We talked about it over our dinner of Ratatouille (like in
the movie).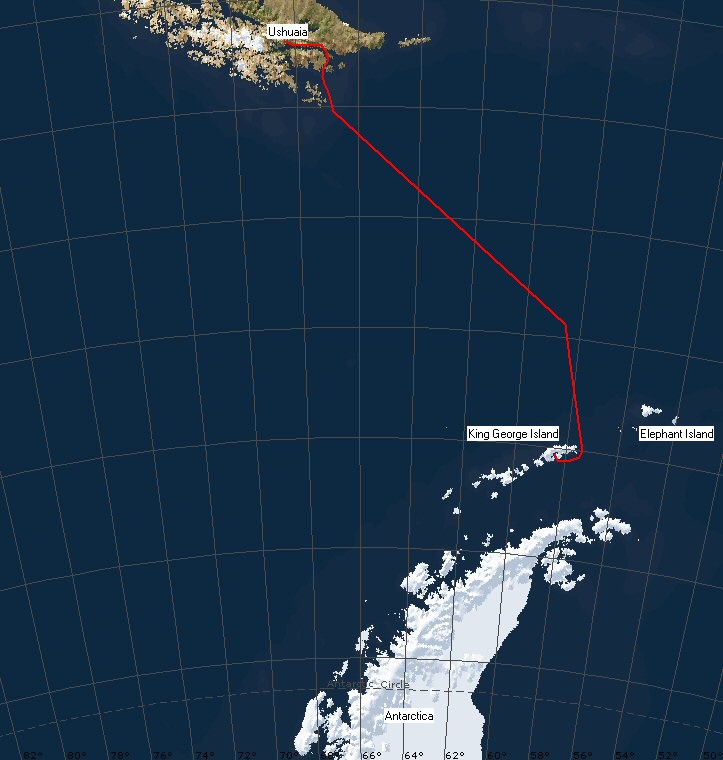 *************************



Update - 1/21 Sailing to Deception



This morning we went ashore on King George Island. A Chinstrap penguin
walked right up to us as if to welcome us to Antarctica. The picture is
attached. There is also a picture of Glacier the Penguin sitting on a
whale bone with Xplore in the background.

Men from the Brazilian base on the other side of the peninsular drove
ATV's to our anchorage to say hello. Unfortunately they rolled an ATV
and a man broke his arm. Audrey landed our Zodiac and took the injured
man back to his base by water.

The base commander insisted we visit the base so they could say thank
you. In the afternoon we brought Xplore around to the base and spent the
rest of the day being treated like royalty. On arrival they asked our
nationalities, we are ten people from six nations. For the afternoon the
base flew the flags of our six countries beneath the flag of Brazil.
Impressive to think a Brazilian base flew the Stars and Stripes just
because I was there. The base is large and very impressive with many
scientific projects underway.

During our stay a small iceberg or "growler" drifted against Xplore. Stephen and
Audrey spent about an hour making sure the berg didn't damage Xplore or
ground on our anchor.

We have departed King George Island and will spend the night sailing to
Deception Island.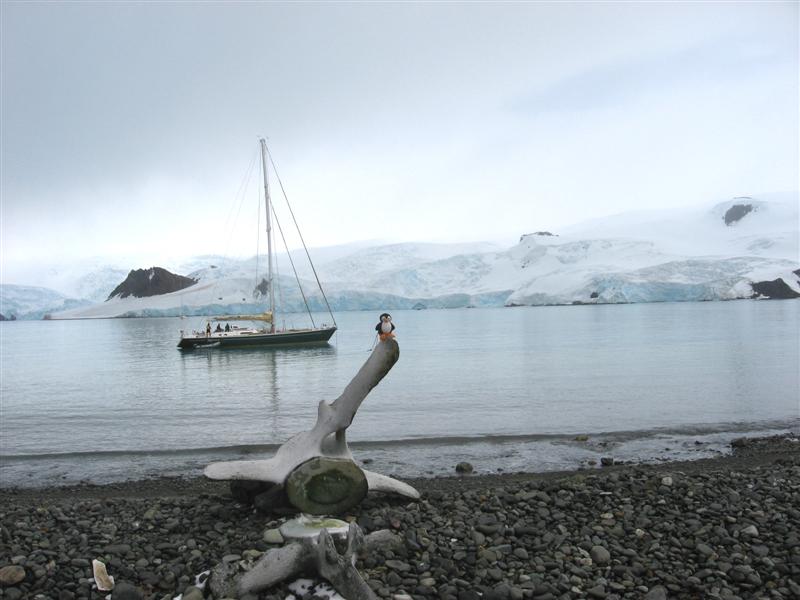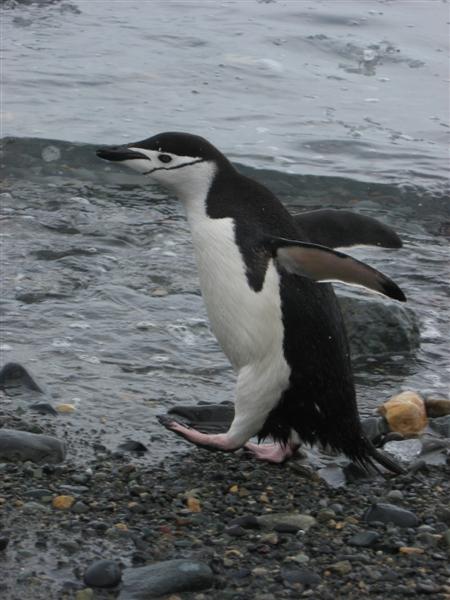 *************************



Update 1/22/2009 - Whaler Bay - Deception Island



This morning we arrived at Deception Island and sailed inside. Deception
is a sunken dormant volcano that last erupted in 1969. Neptune's
Bellows, a narrow channel, leads into the volcano's crater where we
dropped anchor in Whaler Bay near an abandoned whaling base.

We did some exploring in the morning and went for a swim in the
afternoon. The volcano's thermal vents heat the water in places,
sometimes to hot for comfort. The picture is myself, Stephanie, James
and Serge enjoying an Antarctic swim in the crater of a volcano, a first
for us all. Several penguins swam with us.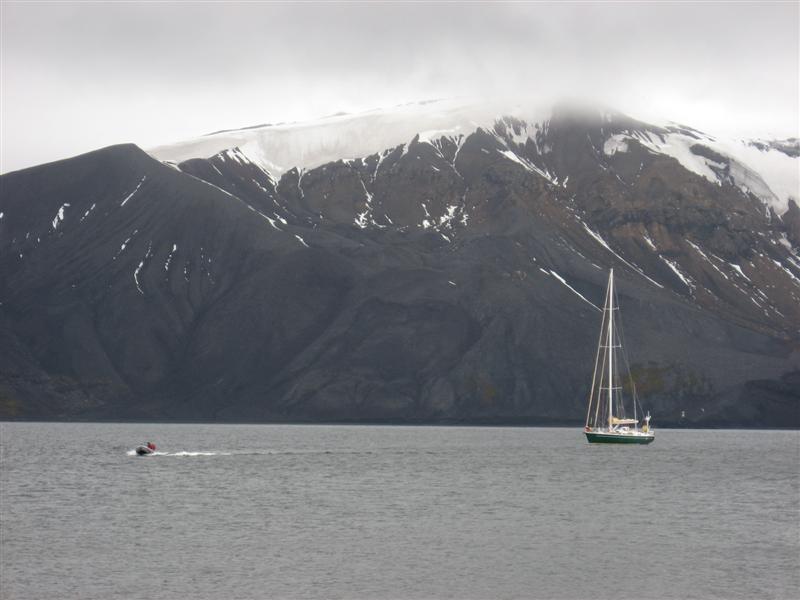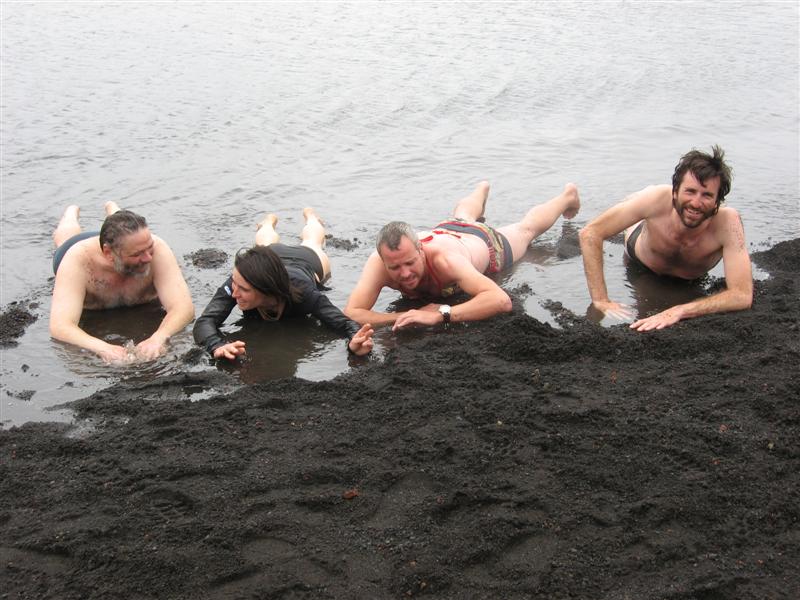 *************************



Update 1/23 Nansen Island - WHALES



Failing to find good holding ground after a wind change, we sailed out of
Deception at midnight. Crossing from the Shetland Islands to the mainland
was very rough. Happily I was not the least seasick. We spent an idyllic
day today sailing down the Gerlache Straits in the warm sun, about 20
degrees.

In the afternoon three enormous Humpback Whales showed up to play. They
circled the boat, passed under the boat, sometimes surfacing slowly just
inches away from us. Ten cameras where clicking away as they rolled,
blew, growled and splashed alongside Xplore for some time. An incredible
experience!

This evening we are at Nansen Island moored to a wrecked Norwegian whaling
boat in a tiny bay surrounded by high glaciers on all sides.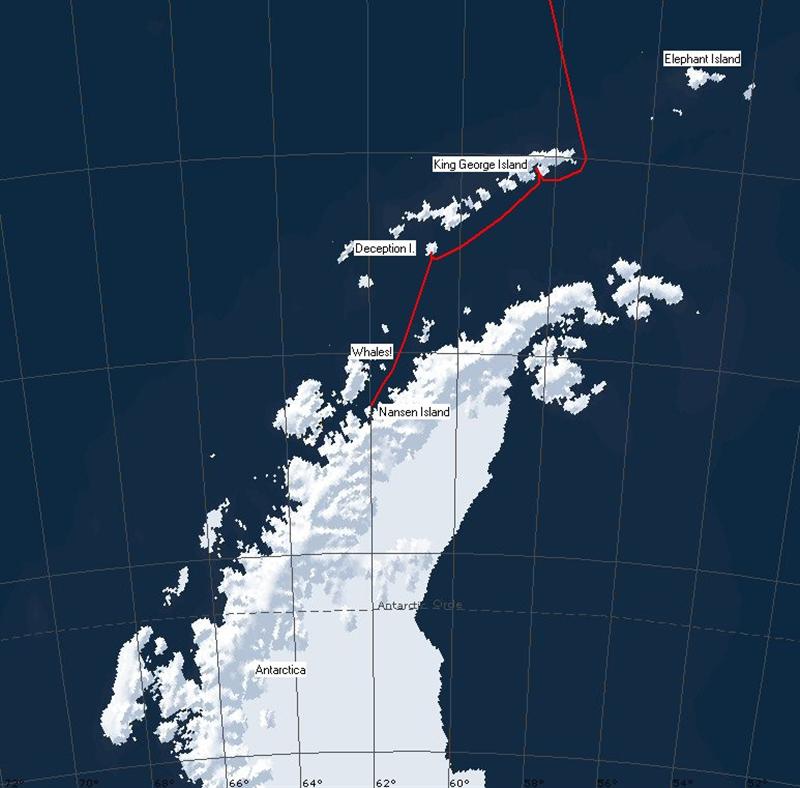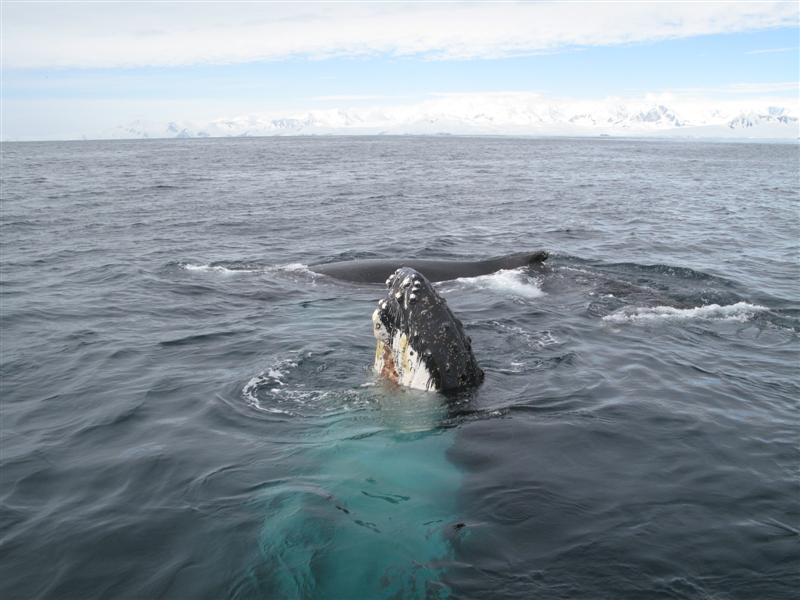 *************************



Update 1/24 - Nansen and Enterprise Islands



This morning six of us climbed Enterprise Island in strong wind and
light snow. A wonderful view even with the limited visibility.

After a big lunch we ran the generator and water maker so we could have
hot showers. Xplore is like home now, very comfortable and the meals are
first class. The boat being from Australia we have "A Cuppa" (coffee,
tea or hot chocolate) all day long. Choosing the right wine and music is
a regular topic of conversation.

The ten of us seem to be compatible, a good laugh is a regular
occurrence. We have no difficulty agreeing on where we want Xplore to go
and what we will do there. Stephen, the captain, will take us wherever
we choose, if ice and weather allow.

One picture is from Enterprise Island with icebergs in the distance. The
other shows the grounded Norwegian whaler we are moored to and Xplore's
mast behind. Both shots are a little blurred from the snow.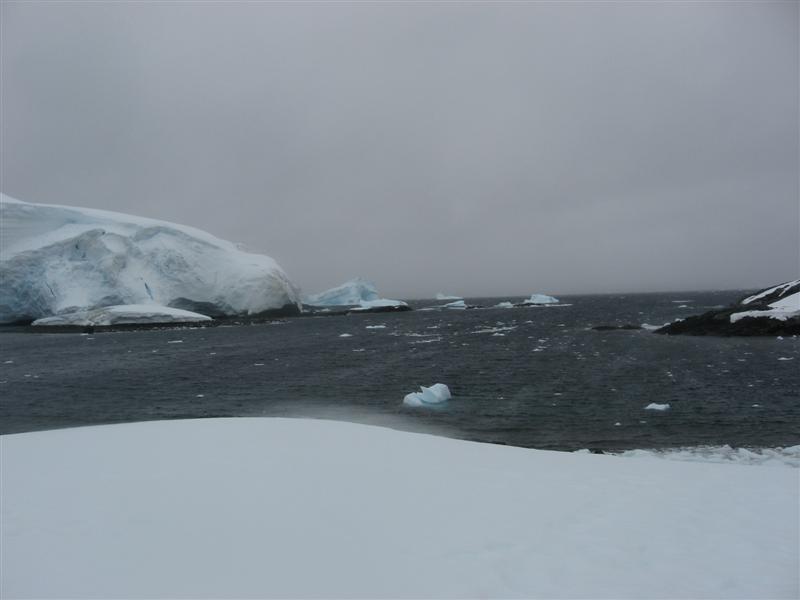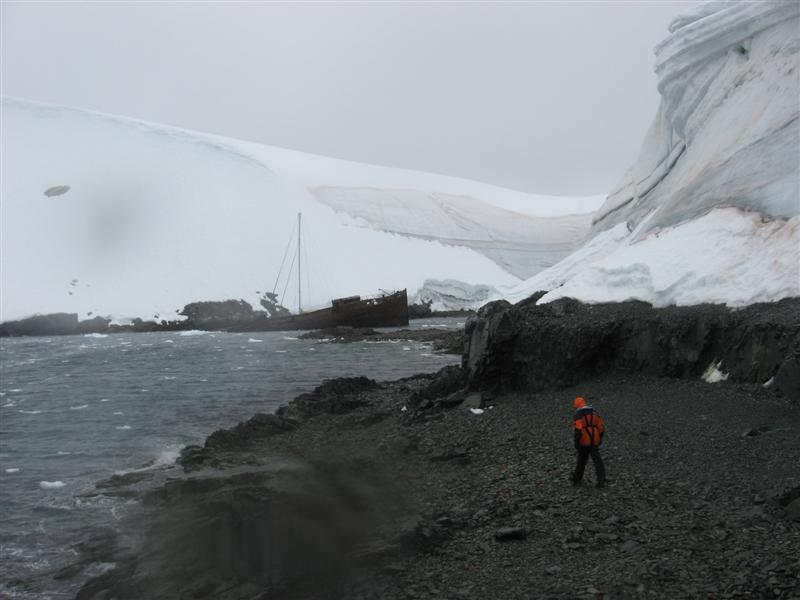 *************************



Update 1/25 - Through an Iceberg and Carter Island



This morning, in light snow, we went for a cruise in the Zodiac and
visited several icebergs. One had a hole in it that we were able to take
the boat through. What looks like a crack in the picture is actually
dark blue ice.

James spotted a few Weddell seals on a small, football field sized
island. The island at 64° 33.24' South, 61° 59.51' West is charted but
unnamed. As the first ashore I took the liberty of naming it Carter
Island. When I am home I will contact the Antarctic Naming Committee and
try to make the name official. The seals were huge and not intimidated
by us. We were able to approach within a few feet for pictures.

On the beach I collected a number of interesting stones. Enough to give
one to each student of Miss Hughes' Fisher School class.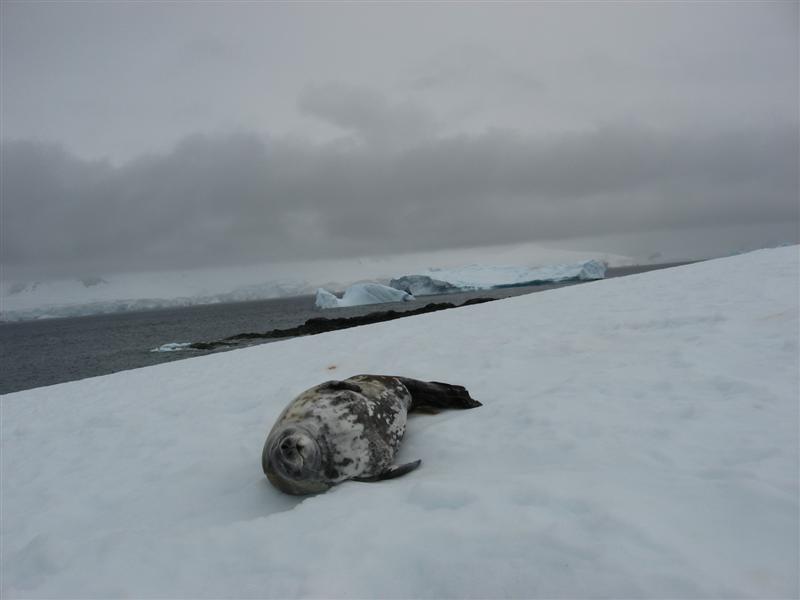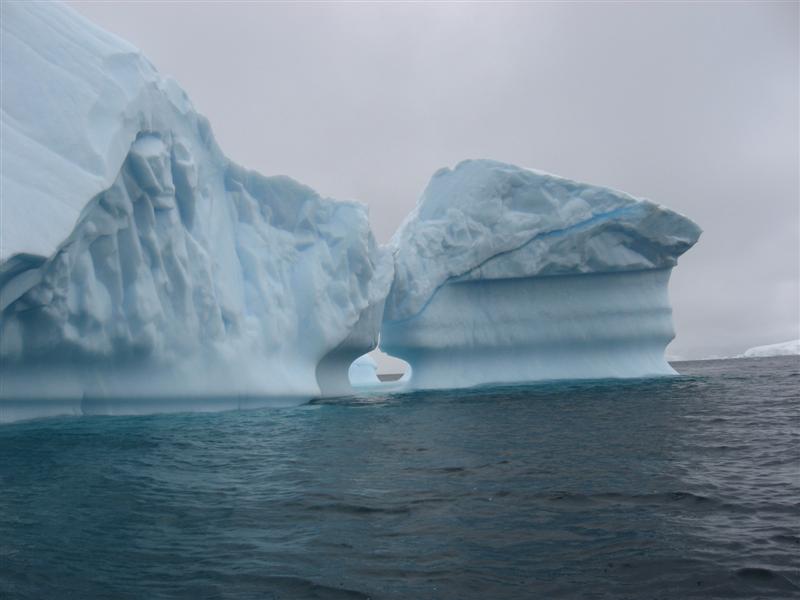 *************************



Update 1/26 - Penguins



This morning we moved down the Gerlache Straits in a flat calm, fog and
ice. We go around the big ice and push the small stuff out of the way.

We anchored at Couverville Island and visited the Gentoo penguin colony.
There were thousands of penguins and most nests held two chicks. They are
very friendly and you can walk in among them if you take it slow.

Just before lunch I spotted a large Leopard Seal swimming under Xplore and
the zodiac. Leopards can be very aggressive, have lots of sharp teeth and
like to tear apart zodiacs, therefore we winched ours out of the water. In
the picture you can see the Leopard Seal under the zodiac.

Tonight we are motoring over to Port Lockroy where we hope to spend a
couple of days.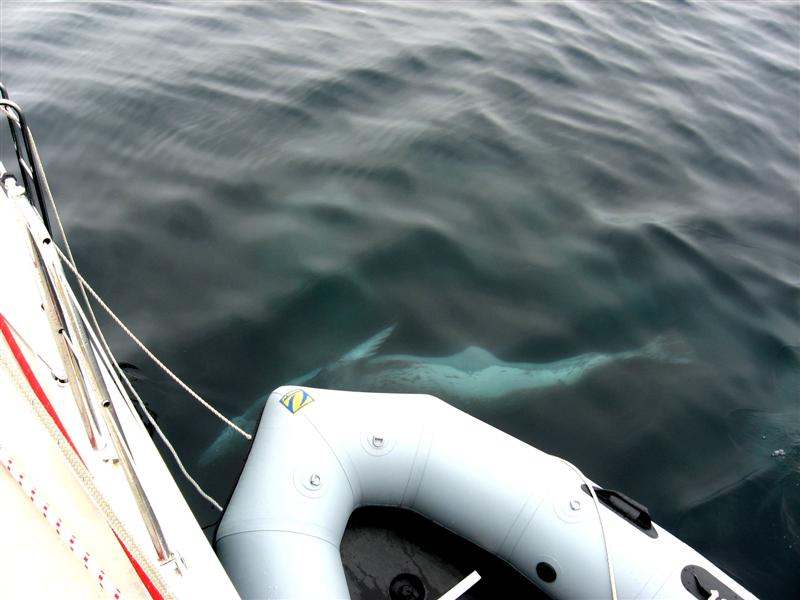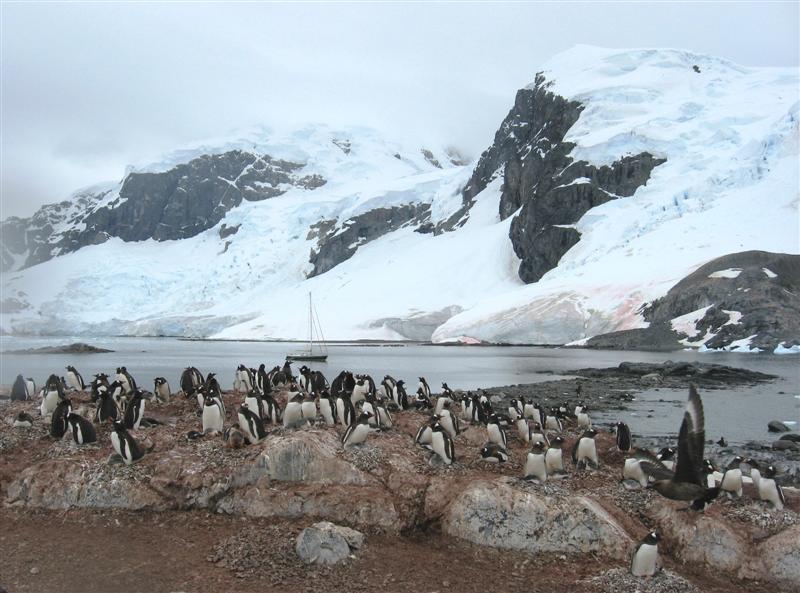 *************************



Update 1/27 - Port Lockroy



Port Lockroy has the reputation of being one of the most beautiful
locations in Antarctica, and it didn't disappoint. We spent an easy day
hiking and snow shoeing to see the sights.

Glacier the penguin spent the day visiting some of his Gentoo cousins.

All aboard want to say hello to Natacha and Karen who hitched a ride on
Xplore from Ushuaia to Puerto Williams.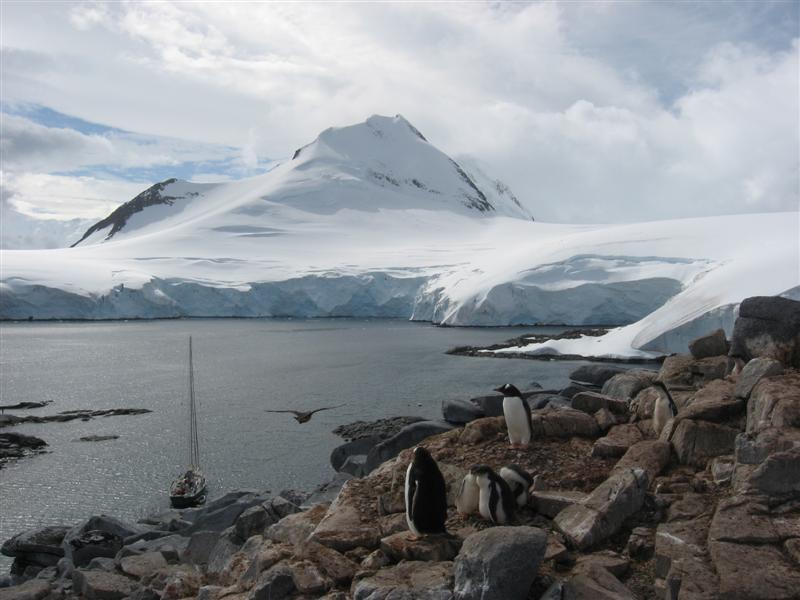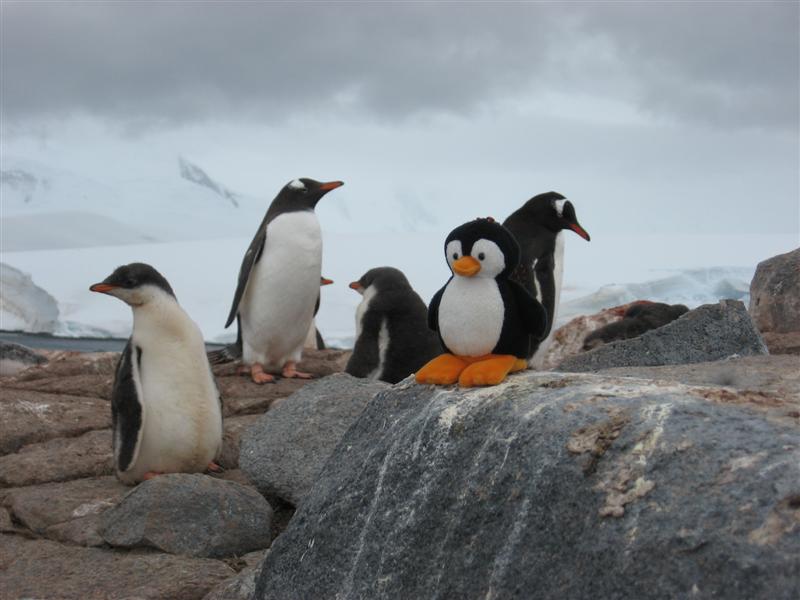 *************************



Update - 1/28 - Peltier Channel



This morning while I was on deck talking with Barbara on the satellite
phone a glacier on the other side of the bay calved. An enormous section
of the glacier fell into the water sending a wave the surged around the
bay for some time. One of our mooring lines snapped under the strain. The
sight and sounds were very impressive; unfortunately Barbara could only
get a verbal description of what we were observing.

Later in the day we visited the historic British station at Port Lockroy
and we purchased some items from the gift shop there. Stephen invited the
three women that work at the station to take and afternoon sail with us to
an abandoned Chilean station down the channel. After that they were our
guests for dinner.

Warm sun all day and fantastic views, temperature about 70. I understand
there is a snow storm back in Massachusetts.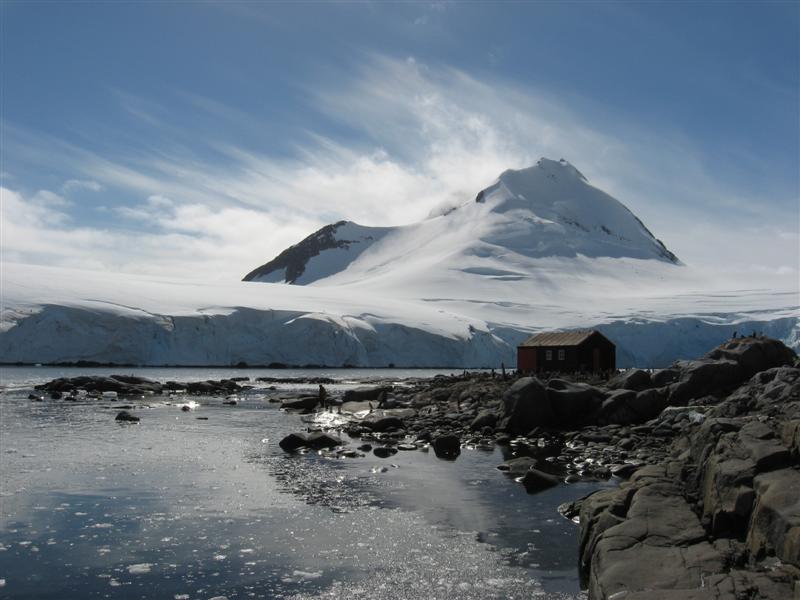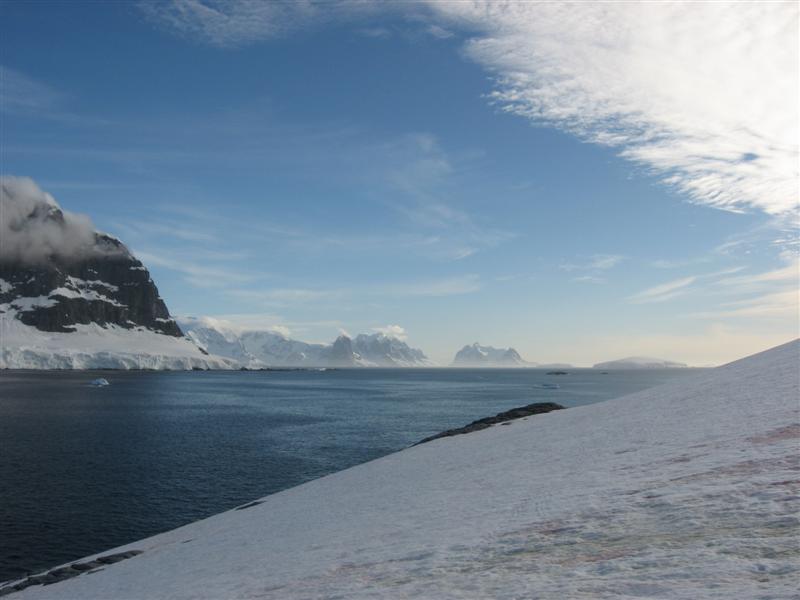 *************************



Update - 1/29 Port Charcot



Today we moved to Port Charcot, a historic site dating back to 1909.
Google Charcot and Antarctica if you are interested. The weather is not
very good so we are staying inside today and hope to venture out
tomorrow. This is Antarctica and perfect days like yesterday don't come
very often.

Our keel touched bottom yesterday as we were attempting to find a way
out of an ice filled Port Lockroy. No disaster since we have a steel
hull and Stephen was going dead slow. But not something that brings a
smile to anyone's face either. It is sobering to remember that the nearest
place to get repairs is on another continent. Audrey and Simon took a
portable depth sounder out in the zodiac and found a route with enough
water for Xplore.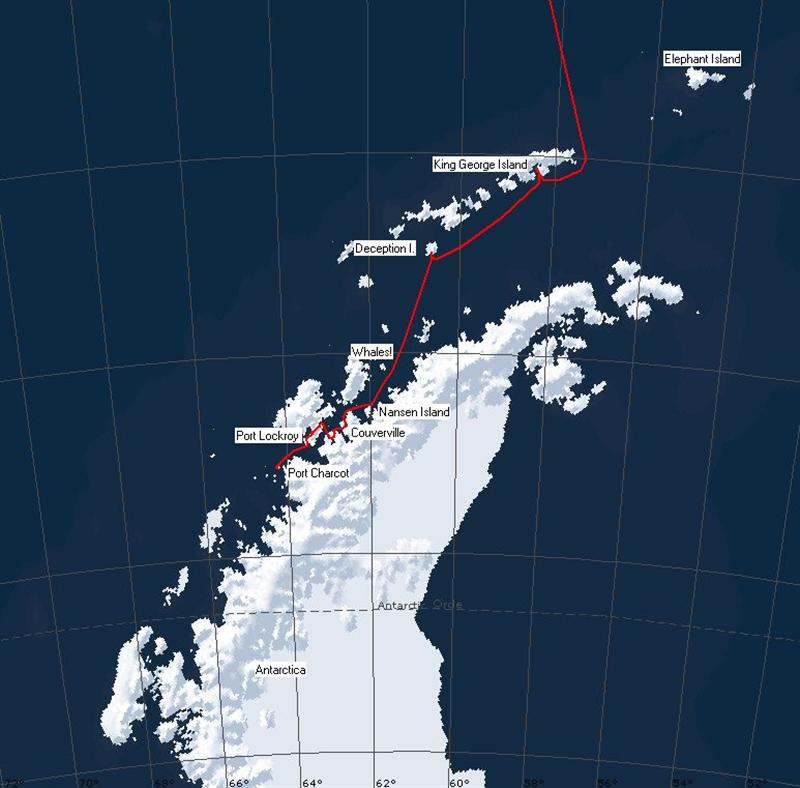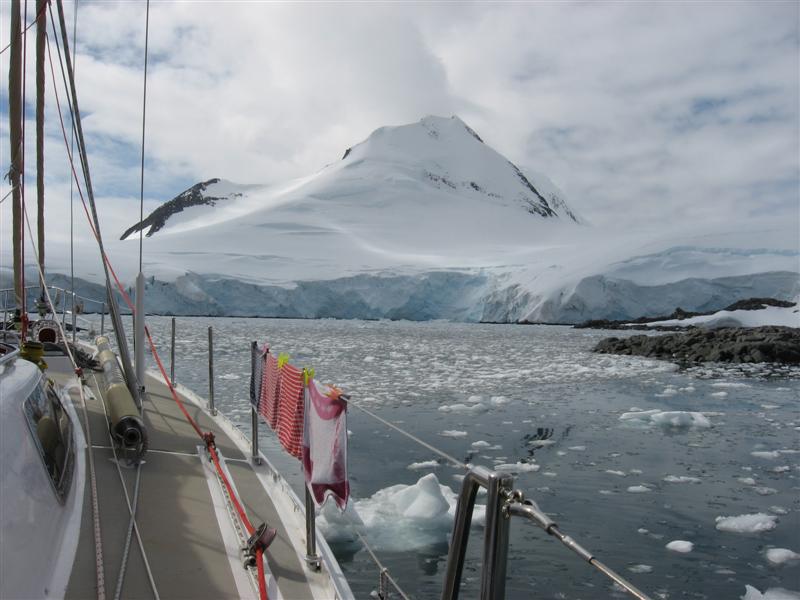 *************************



Update 1/30 - LeMaire Channel



This morning we investigated Circumcision Bay where the Charcot
Expedition wintered a hundred years ago. In the bay we found A Leopard
Seal, about nine feet long, on an ice flow. We were able to get to
within a few feet and took some nice pictures.

In the afternoon we sailed down the LeMaire Channel. A narrow passage
with mountains and glaciers on both sides, incredibly beautiful.

On the down side we have decided to stop serving red wine at lunch. The
reason is we only have enough red wine for 3 or 4 bottles per day until
the end of the trip. And we are completely out of fresh apples and
pears. We will try and survive.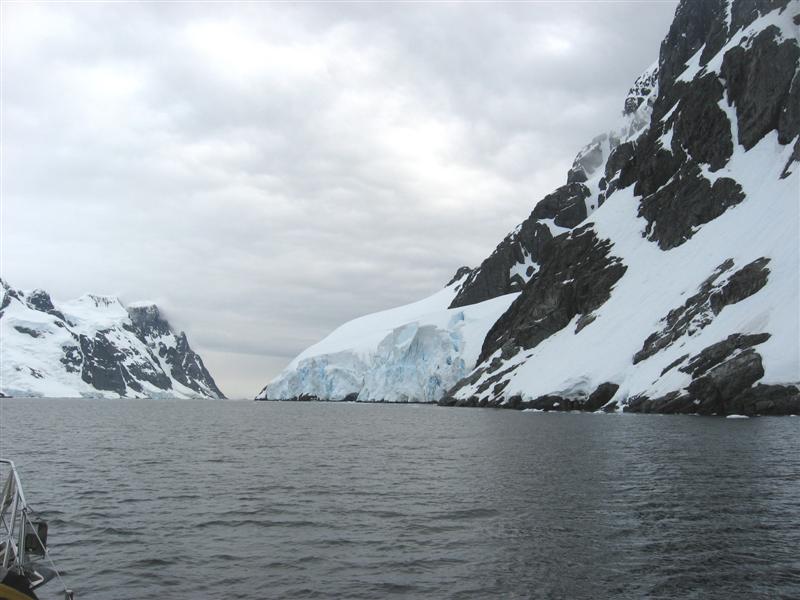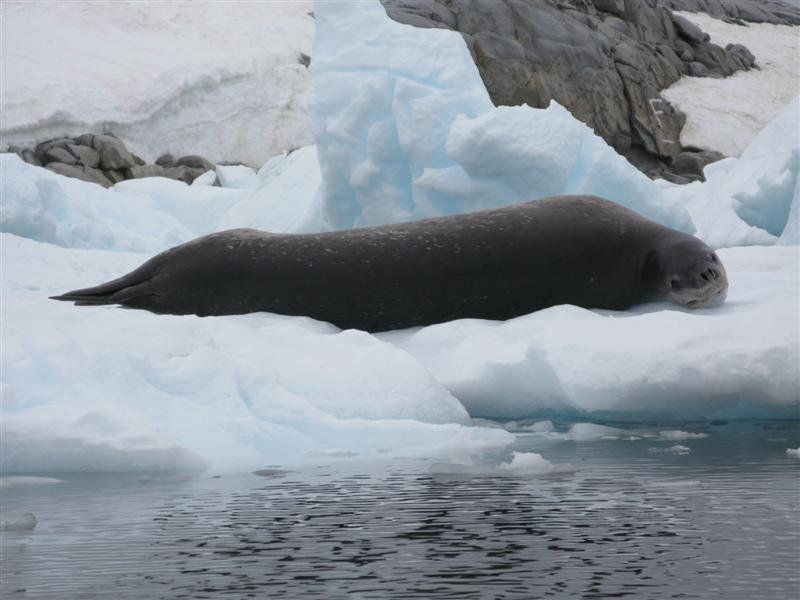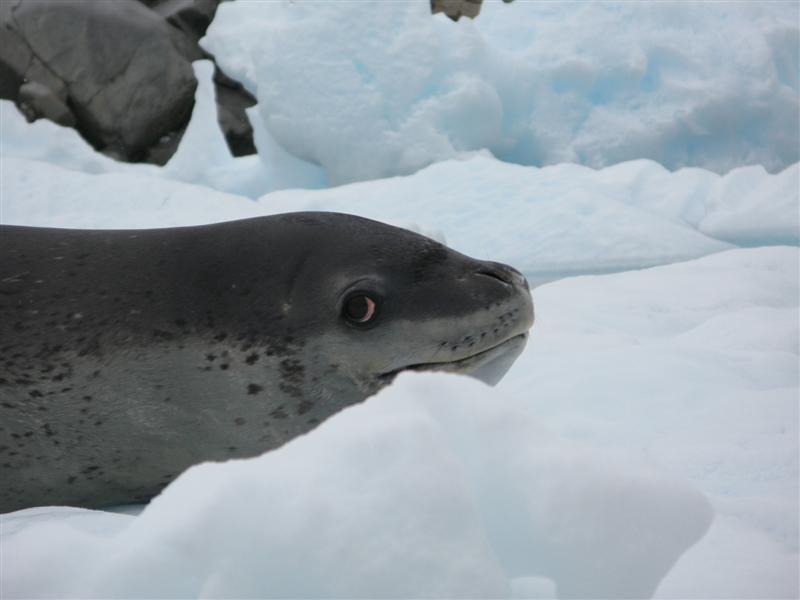 *************************



Update 1/31 - Hovgaard Island



Everyone helps out in the galley preparing meals. I made the mistake of
admitting I had made bread. Actually all I had done was put some
ingredients in a bread machine and pressed the start button, a few hours
later I had bread. Anyway, today it was my job to make bread so I opened
the "Joy of Cooking" book, found a recipe and made bread. It looks good
but nobody has had the courage to eat it yet.

This afternoon Stephanie and I climbed 1,200 foot high Mount Hovgaard on
Hovgaard Island. The view from the top is spectacular in every
direction. In the iceberg picture you can see Xplore near the bottom and
to the left. The other picture shows the LeMaire Channel entrance in the
center of the picture.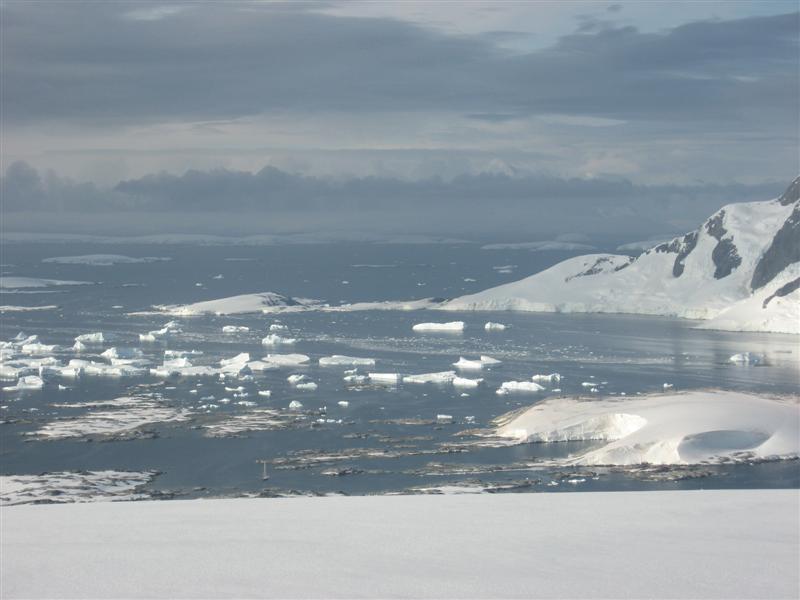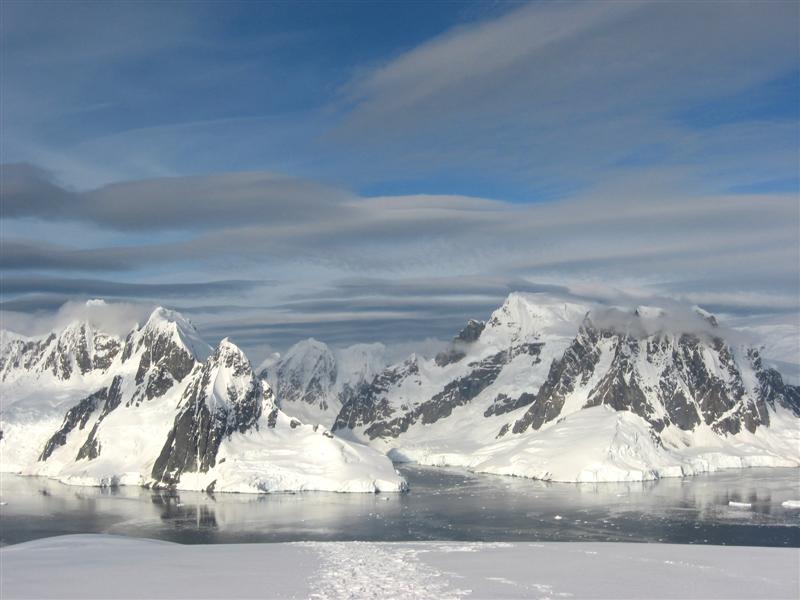 *************************



Update 2/1 - Stella Creek



Today we moved to an Adelie penguin rookery on Yalour Island. Glacier
came ashore and was a big hit. The chicks were large and molting, not
very cute to be honest.

Later we moved to the Ukranian station at Stella Creek. On the way we
spotted several Humpback whales, and came close to two. This time I left
my camera in my pocket and simply enjoyed the experience.

The good news is the bread I made was a big hit. The bad news is now I
have to make more.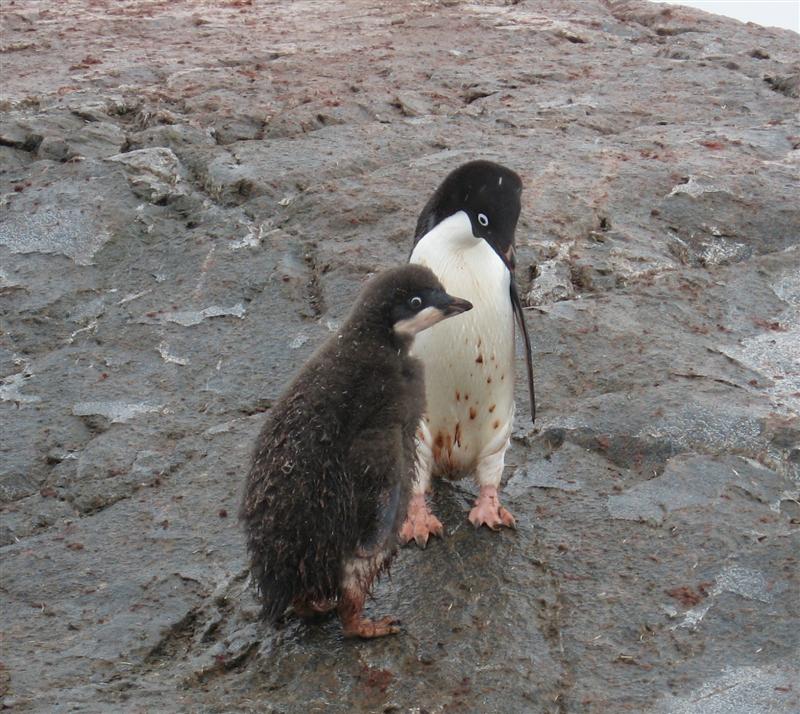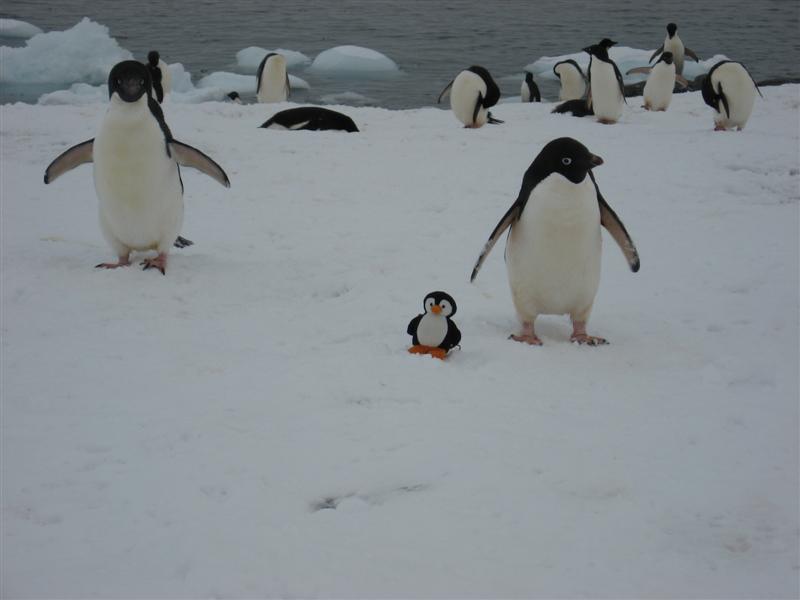 *************************



Update 2/2 - Ice Caves on Galindez



Today we explored the ice caves on Galindez Island. One of the pictures
shows Cecilia, Audrey and Stephen in the ice cave. Another shows me
climbing up the outside to the entrance. The caves where deep and very
difficult in places but Stephen took in small groups throughout the
afternoon.

Back on board Xplore we used the warm sun to dry out and do some
laundry. The hatch in my cabin was opened for the first time since we
departed Ushuaia.

This evening we are invited to the Ukrainian station nearby.

Congratulations to the Steelers for their last minute Super Bowl victory.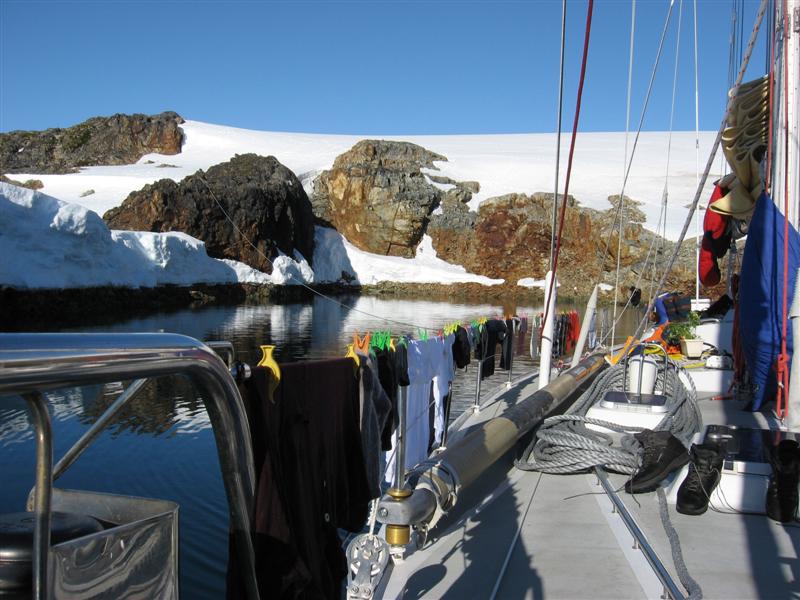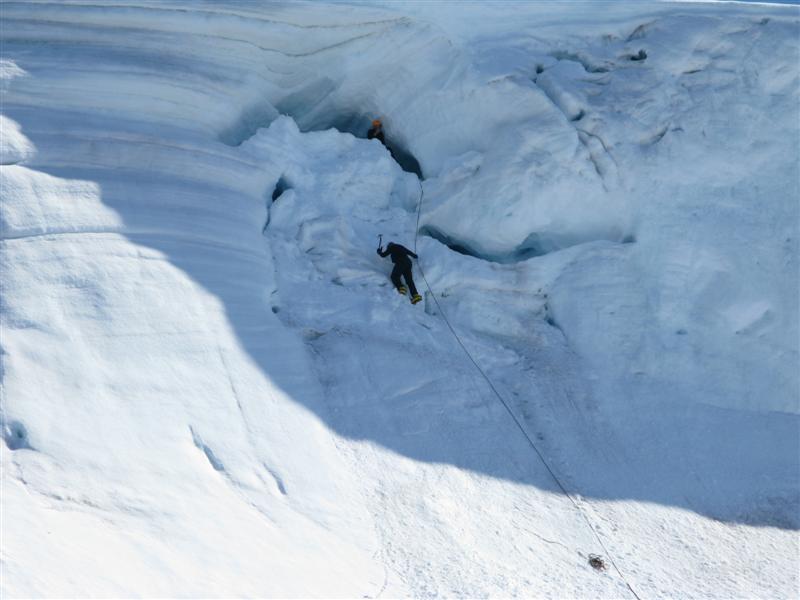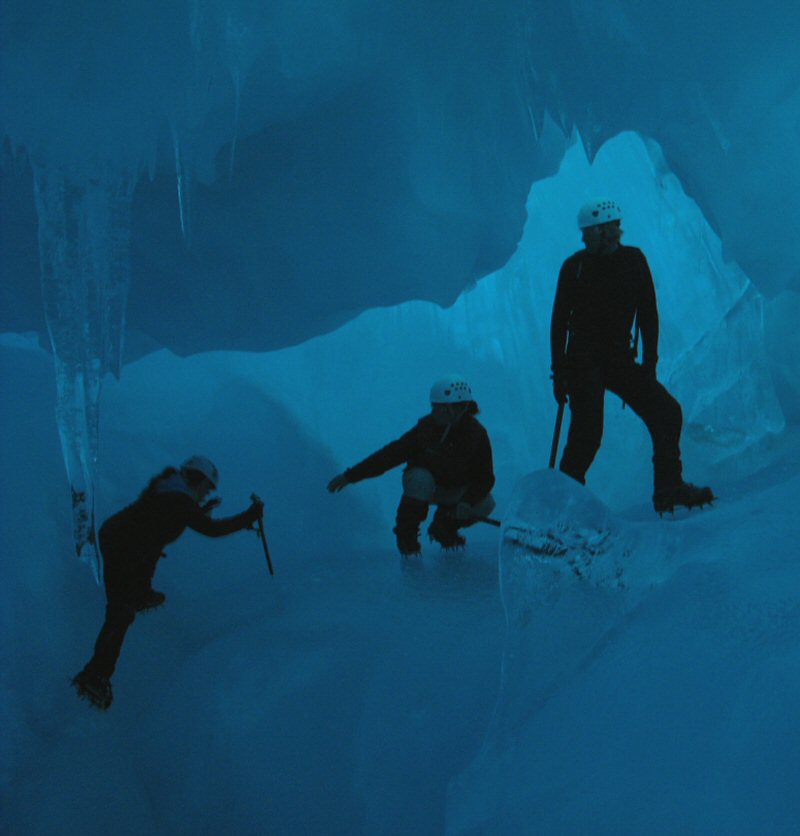 *************************



Update 2/3 - Vernadsky Station



Last night we visited the 13 man Vernadsky Ukrainian station. They gave
us an interesting tour of the base. It is the place where the hole in
the ozone layer was first discovered.

The last stop on the tour was the bar where we were acquainted with a
couple of the bases unofficial projects, making strong vodka, and seeing
to it that visitors drink plenty of it. Today we are talking softly and
sitting out a snowfall. My laundry froze on the rail last night before
it was able to dry. It's now hung in my tiny cabin.

Xplore is secured in place by means of shore lines. When we arrive at a
new location Stephen finds a secluded area protected from icebergs. We
drop anchor and back into the desired location. The zodiac is quickly
launched and attaches heavy lines from the boat to shore at the four
corners. The lines are tied to steel cables that are wrapped around
large rocks on shore. Sometimes an acceptable spot is hard to find and
requires going far back on shore. The lines are winched tight on board
Xplore to secure us in place.

Pictured is a Weddell seal we found today.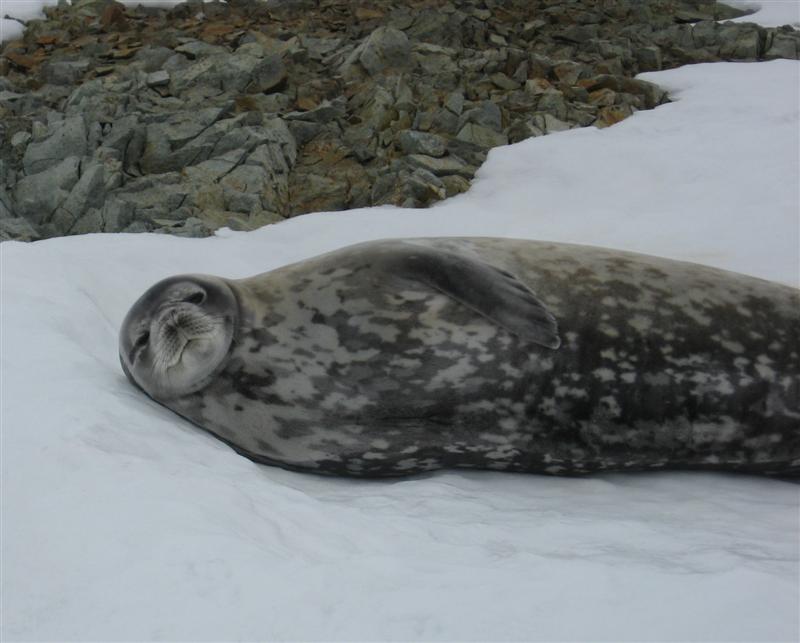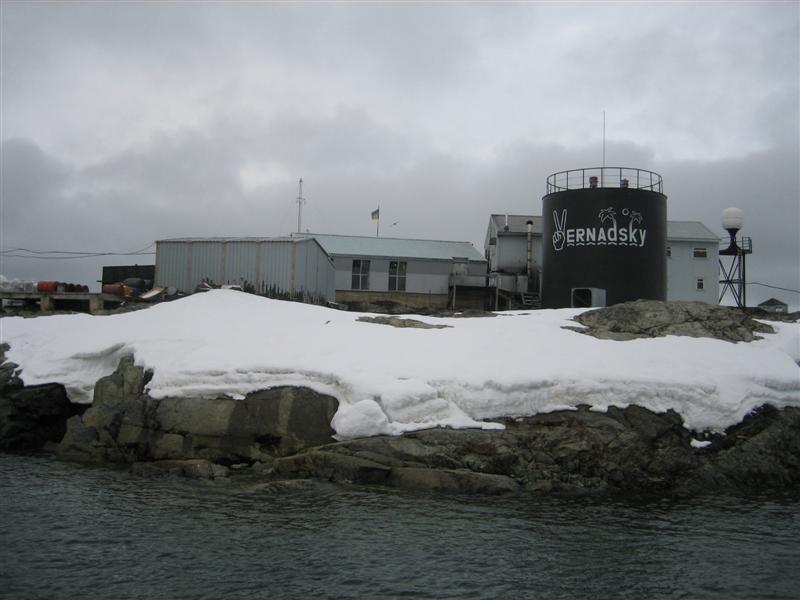 *************************



Update 2/4 - Pitt Islands



Today we moved down to the Pitt Islands. We passed through some ice in
cold clear weather. One picture is James behind Julie while she is at
the wheel.

We entered Barbara Bay through a narrow passage with three feet of water
under the keel and a glacier overhanging the boat. The picture doesn't
do the glacier justice, it extends much higher than my camera could
record.

There is also a picture of the southern end of the LeMaire Channel.

Answers:

The ice is blue for the same reason the sky is blue, scattered light and
the relative strength of the blue photon.

The countries represented on board are France (3), New Zealand (2),
United Kingdom, Australia, Argentina, Germany and the USA.

It can be 70 degrees Fahrenheit in Antarctica because it is summer down
here.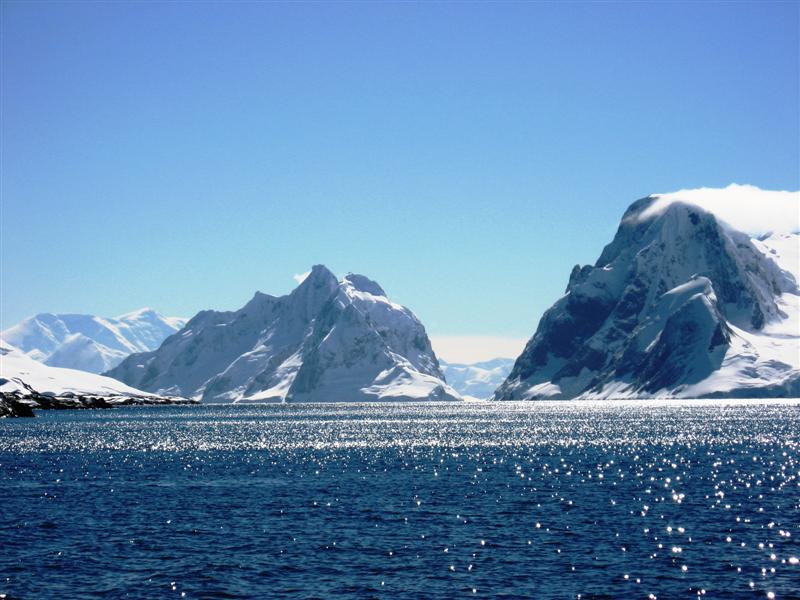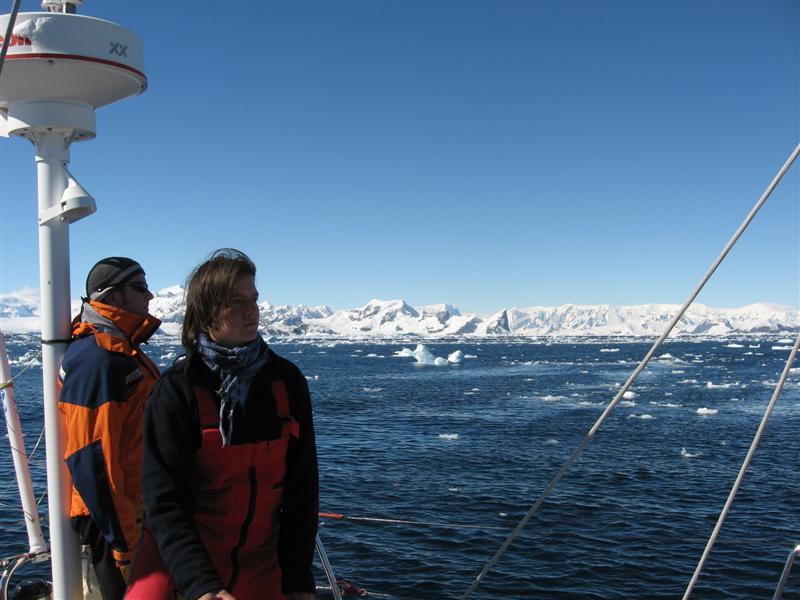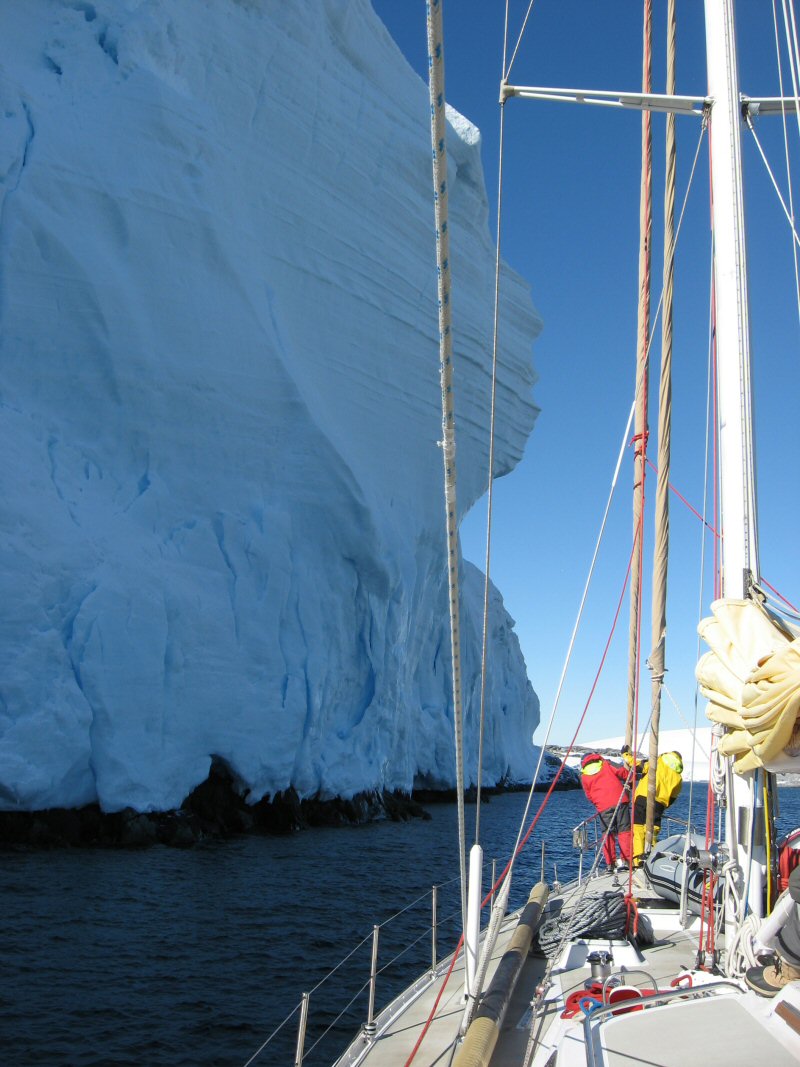 *************************



Update 2/5 - Serge Rock, Barbara Bay



This morning Stephen, Serge, Sonia and myself took the zodiac out for
some map making. These islands are mostly uncharted so with GPS, depth
sounder, paper and pencil we tried to correct that condition. In the
process we named Serge Rock and Barbara Bay.

Later in the day quite a few seals were spotted. One picture shows four
Fur Seals and another is of a Crab Eater Seal. Thank you to Stephanie
for the photos.

Stephanie, Serge and Audrey are from France. They tell me I am the only
person they have ever known that has a French last name but speaks no
French. They are amazed that such a thing is possible. They have
convinced all aboard to use the French pronunciation of my name, so I am
"Reechaaar" on board Xplore. I also receive daily French lessons.

Au revoir les amis, rendez-vous pour le prochain blog tout droit venu du
fameux Drake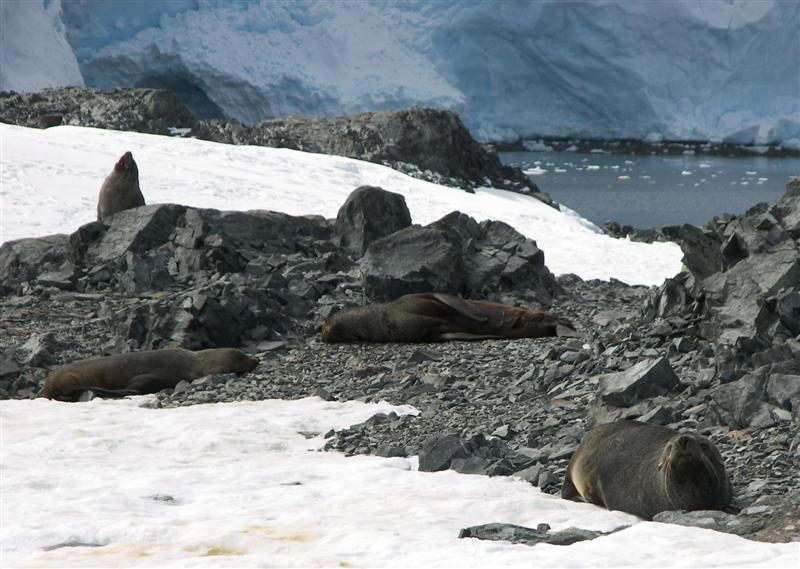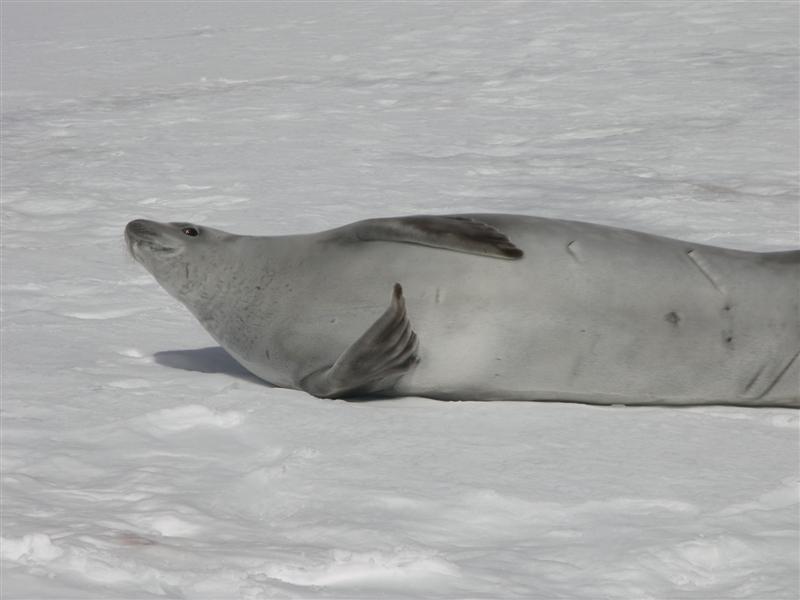 *************************



Update 2/6 - Sliding



We were scheduled to leave Antarctica at 5 AM today, however Stephen was
not happy with the weather forecast. We would be sailing into the wind
most of the way and have 60 knot winds off of Cape Horn. Not the best
plan. Therefore we will be spending more time in Antarctica, perhaps
three more days.

This afternoon we went ashore for a sliding contest. One picture is of
the group, the other shows Julie, Audrey and Stephanie sliding down the
hill on some of Xplore's fenders tied together. My best slide was
headfirst on my back with a large trash bag over my head. However
Cecilia clearly had the distance record.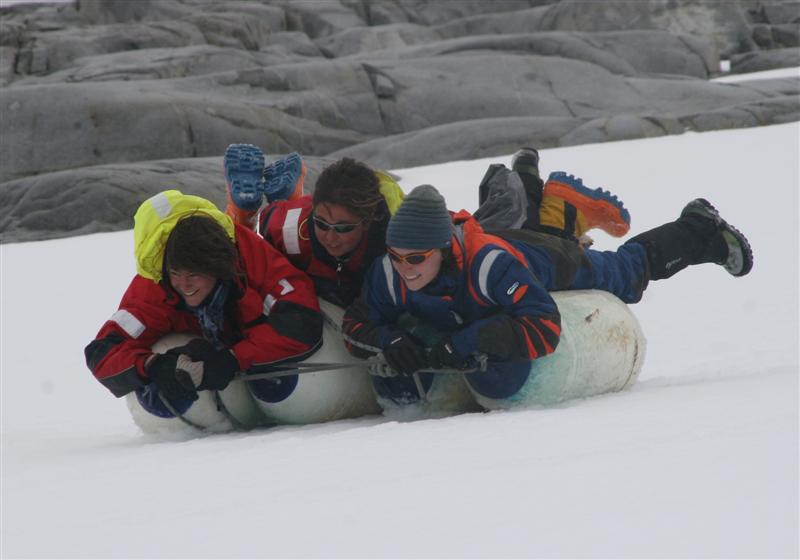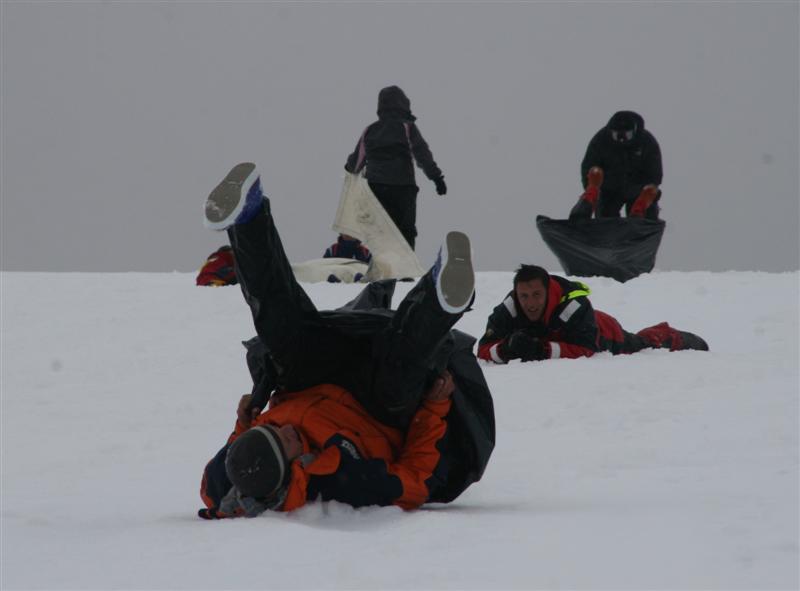 *************************



Update 2/10 - Drake Passage - 260 miles to the Horn



Saturday evening we took in shore lines and left Barbara Bay for
Buchanan Channel. We didn't name the channel, it's printed on the chart.
Coincidentally it's Barbara's maiden name.

This passage of the Drake is a lot rougher than the last, even some of
the crew are seasick. And our mainsail halyard has ripped free. It can't
be fixed without climbing the mast; however that's dangerous in these
seas. Therefore our speed is limited.

We hope to reach Cape Horn early Thursday.

I saw my first Albatross today.




*************************



Final 2/14 - Cape Horn - Ushuaia - Home



While in the Drake Passage, Stephen climbed the mast and brought down the halyard so a trysail could be hoisted to give us more speed.

We rounded Cape Horn under sail in bright moonlight Thursday morning at 3 AM. There was not much talking as we all watched respectfully from the deck and passed by one of the most famous, and infamous, places on earth.

In the last hours, I copied everyone's digital pictures and videos onto my laptop: 26.3 gigabytes, 8,286 photos.

That night we glided to our moorings in Ushuaia, Argentina, experiencing the sights and sounds of civilization for the first time in a month. The next day brought the inevitable and surprisingly emotional break-up of ten people from seven nations, who had come together for a once in a lifetime experience.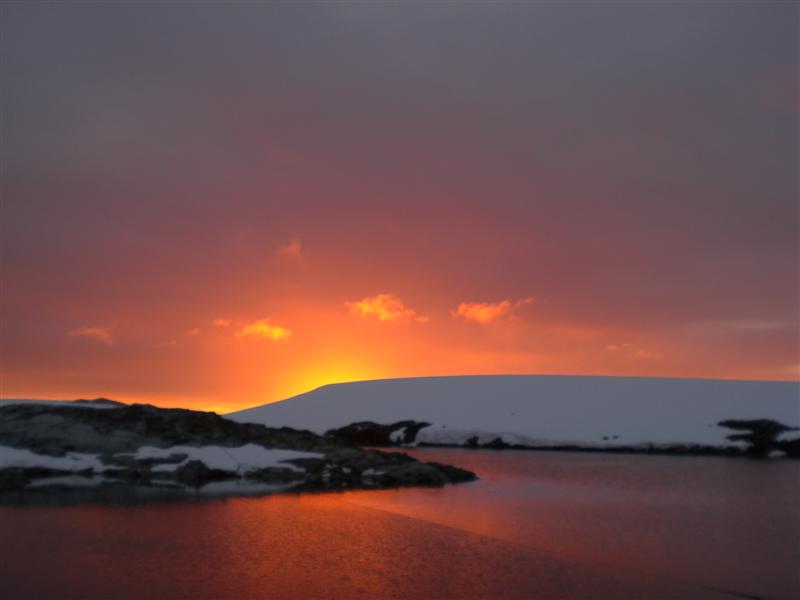 END